Can Latinas Wear Box Braids Without Backlash?
Can Latinas Wear Box Braids? We want to answer this burning question for our Latino community on our blog. While we can't exactly call box braids a 'trend' (women have, after all, been rocking them since ancient Egyptian times), the hairstyle is definitely having a moment.
There is no clear-cut rule about Can Latinas Wear Box Braids. However, it's important to know why you're getting a hairstyle that has long been a cultural touchstone while also being the focus of discrimination of can Latinas wear box braids
Anyone can wear box braids, it's the matter of should everyone wear box braids?
I say, only you can determine what style you wear on your head. I can't come up to you and say, you can only wear your hair straight down if you can wear your hair anyway you want.
But, hear me out. Personally, I say Maybe. Before you get a cultural hairstyle ask yourself,
Do I want this style because it's trendy?
Do I understand the cultural background of this hairstyle?
Am I ready for the sly comments from people?
Do I understand that black women get fired from jobs, banished from their child's schools, called to HR because they wear this ethnic style?
Yes I know a race can't own braids, hair, clothing, slang, etc. but box braids, cornrows and everything in between are apart of the cultural identity of African Americans.
Many people have forgotten that box braids and traditional 'black' hairstyles aren't for a trend. They're protective styles, now you look at that word and say
"Okay then that's all the more reason to get them right? They're going to protect my hair!". Protective styles help kinky hair grow.
Latinas Wearing Box Braids Cultural Appropriation?
But what about Latinas rocking black hairstyles? Is this also cultural appropriation? For Latinas of African descent, rocking a hairstyle like box braids or bantu knots shouldn't cause hesitation because Afro-Latinas are mixed race.
Many have hair textures similar to that of black women. Yet I still found Afro-Latinas who were concerned with rocking these hairstyles out of fear of being accused of cultural appropriation.
I even came across a couple of forums online where folks asked if it's considered cultural appropriation when a Latina wears her hair in braids?
When I got old enough, I learned to straighten my hair myself, and I did so without question for a decade. But recently, I've begun to embrace my naturally curly hair.
I cut off over eight inches of heat-damaged hair and vowed to stop using the flat iron in order to let my ringlets flourish.
As I began this journey, I found more and more Latinas who wore their hair curly, and some of them were tapping into protective styles, like braids, as a means to grow their strands out or protect their hair from sweat and swimming pools.
However, I never considered wearing the style myself until I embarked on a recent vacation to visit my family in Miami, and needed a solution that prevented my curly hair from getting damaged.
I knew that washing my hair after the pool and beach every day would leave my curls fried by the end of the week.
I thought back to those days on Sosúa beach, but I put off making a braiding appointment because of one concern: Can I, as a light-skinned Latina with looser curls, wear a hairstyle that's so meaningful to Black women?
That's not to say that just because you're not wearing a certain hairstyle, you can't learn about it. Hairstyles could bring communities together, especially between those of color.
The way we wear our hair is a personal choice, there's no right or wrong way; one way doesn't make us more intelligent or more superficial and everyone makes that choice for very different reasons.
Latinas Wear Box Braids Curl Type Chart
Protective Styles are meant for hair types 3c-4c, typically when a person with wavy or straight hair gets box braids, after they take them out a lot and I mean a lot of their hair comes out with the weave.
But please understand that box braids isn't "just hair" to black people. It's more than that, during slavery women would hide rice and other things in their children's cornrows and braids and their own for food for various reasons.
Throughout the centuries that practice has traveled down many generations. That's why when black women see non black people getting these traditional, sacred, cultural hairstyles they get upset.
What Cultures Can Wear Box Braids?
The origin of braids can be traced back 5000 years in African culture to 3500 BC—they were very popular among women." Braids are not just a style; this craft is a form of art. "Braiding started in Africa with the Himba people of Namibia," says Alysa Pace of Bomane Salon.
Why Are they Called Box Braids?
Hair-braiding styles were used to help differentiate tribes, locations, and also possibly a symbol of wealth and power because of the amount of effort that went into styling braids. Box braids were not given a specific name until the 1990s when popularized by Janet Jackson, but have been used for centuries.
Are Cornrows Better Than Box Braids?
In my experience cornrows are easier on my hair strands but barely last over a week. Box braids last a lot and are easier to moisturize take care of.
How Long Does Latinas Box Braids Take?
Anywhere from 4-8 hrs to do single braids (box braids) is normal. 2nd Answer: If you are a beginner, it can take you anywhere from 8-10 hours to do your own box braids. Overtime you get faster and your braids will look more neat and consistent in size and shape.
What is The Difference Between Box Braids And Regular Braids?
The main difference between box braids and twists is the technique. Box braids are installed by intertwining three strands of hair, while twists require only two strands to be wrapped around each other. Opt for braids if you prefer a sleeker look since twists are fluffier in appearance.
What Should a Latina Do To Their Hair Before Getting Box Braids?
It's best to get rid of any built up dirt, grease, and oil in your hair before you start the braiding process. Shampoo and condition your hair thoroughly with tgin's Moisture Rich Sulfate Free Shampoo and Triple Moisture Replenishing Conditioner once your hair is clean and conditioned it's time to deep condition.
Do Braids Help Hair Grow Faster?
Braiding your hair can help to make it grow faster by providing it with a more stable structure. The style can also protect your hair from daily contact with textiles and objects that may cause additional friction, which can lead to breakage.
Best Hair for Latinas Box Braids Hairstyle
Latina Box Braids: Summer Hair Extensions Tutorial
Watch this Video Tutorial on how to do the Latinas box braid Hairstyle Summer Hair Extensions. Hello Loves, My Friend did some Burgundy Red Braids on her Friend Andrea before she went home to visit her Family in Puerto Rico.
This is her first time ever getting braided extensions and she did so well ,not complaining about how long the process took.
Hope you enjoy!!! Comment below and let me know what you think? Braiding time? 5hrs Hair used: Forevery Braiding Hair Kanekalon Synthetic Ombre Hair Braiding Extensions Product for Hold : Hair Gel by SoftSheen-Carson Dark and Lovely Let's Jam
10 Best Box Braids Hairstyles For Latinas
Twisted Latina Box Braids
Latinas Box Braids will look great on any dark hair. If your hair is not naturally curly, this Latina hairstyle will require braids. The result will be amazing since the curly hair will instantly become easy to manage. Give this one a try and experiment with colors!
Topknot Hispanic Hair Box Braids
Tired of your dark hair? Go for braids. A great way to highlight your hair is to dye just the top part. Choose the right color and go for it. The rest of the hair can be styled to have long romantic waves. This is sure to be a hit!
Conventional Latinas Box Braids
If your hair is long, there is no reason to forget about box braids. Latinas Box Braids look very sexy, especially if the rest of the hair is neatly styled into cornrows. This Latina hairstyle will fit any woman with long hair.
Fro Locks Latinas Box Braids
Even if your hair is naturally wavy, try this Latinas Box Braids hairstyle and you won't regret it. braid your hair, so it freely flows down your shoulders. This is a very sexy look. Just make sure to keep it neat, otherwise, it will turn into a disaster.
Latinas Goddess Box Braids
This is a classical Latinas Box Braids for girls with thick hair. Make neat and thick curls and you are sure to keep some heads turning your way. Take some time to consider beads. Thick strands look great on a dark hairstyle.
Latinas Short Cornrow Braids Hairstyle
Every time you crave for a modern hairstyle, a silver ombre can save the day! Opt for a layered bob haircut with bangs swept on one side and make a few easy waves to complete the look. Such a hot mamacita!
Long Latinas Braided Hairstyle
Mexican girls love hairstyles that add value to their hair and this beautiful hairdo is one of the best examples. Split the crown hair into three sections that follow the hairline and make three twisted braids. Secure them all in a low ponytail and gorgeously curl the ends of the hairdo.
Latinas Box Braids Up-do Hairstyle
If you adore relaxed looks that show your romantic side and at the same time want a stylish appearance, a halo loose braid that forms a twisted hair crown is a perfect idea for you. Spare your bangs and some longer strands to make the look seem messy.
Latinas Box Braids With Flower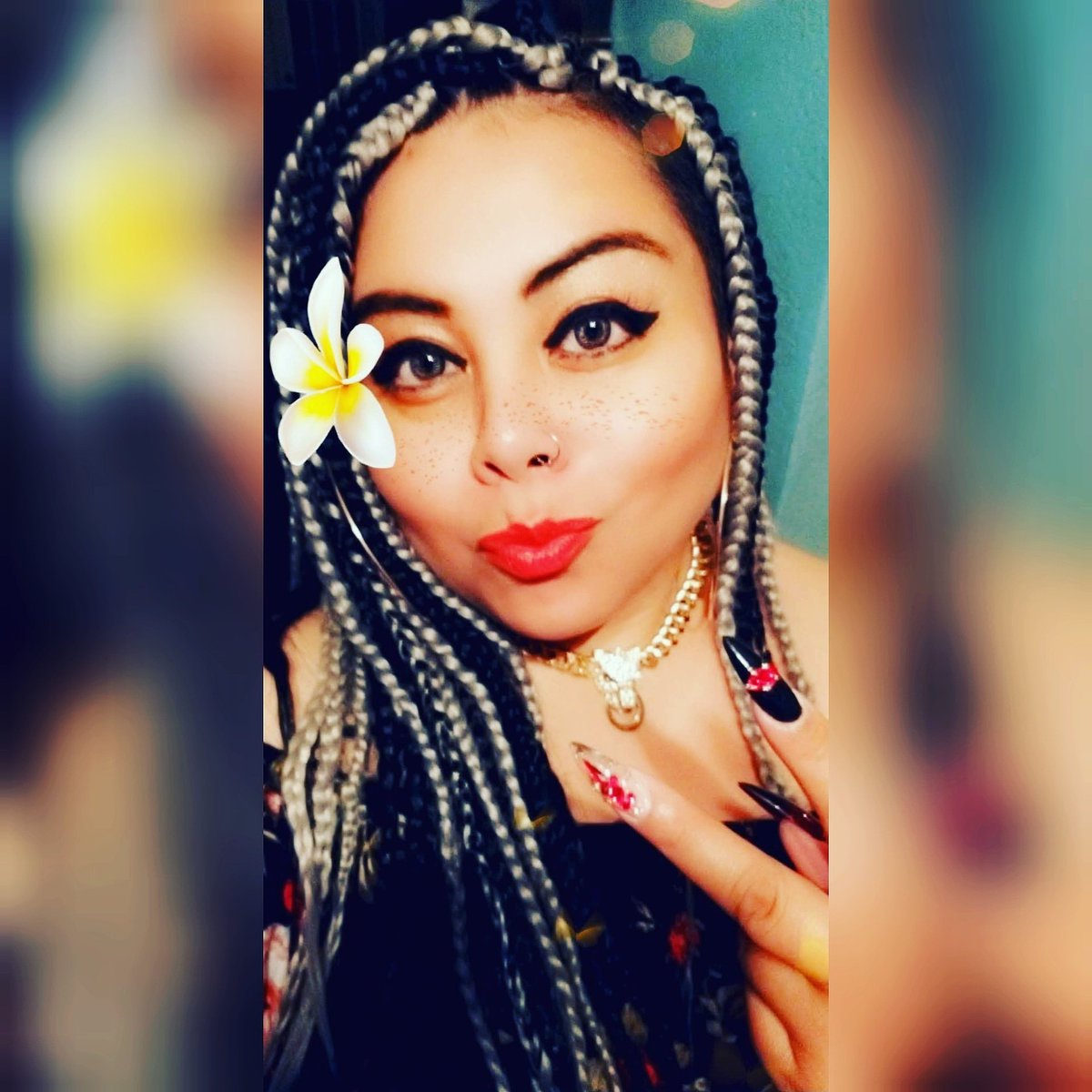 Mexican girls love flowers, so ladies wear them in their hair all the time, even at weddings. If you want to be the queen of the night, build a halo braid and attach your favorite blooms on it.
Double Latinas Box Braids Hairstyle
Absolutely practical and chic braids are one of the most popular Mexican haircuts.
With the innumerable ways to braid hair, there's a type of braid available for every occasion
All we can recommend you is experiment, experiment and experiment. Long and thick hair will look great whatever you decide to do with it. Try the options we showed here to create an amazing and sexy look you always wanted.
I do love and appreciate that i can help my reader's with this question Can Latinas Wear Box Braids. But only you can chose to get them or not.
To that sentiment I add a favorite Willow Smith adage of mine: "Just whip it." And until you've tried whipping a head full of box braids… you have no idea how fabulous it can feel.