Weave Braids into A Ponytail
Weave Braids into a Ponytail are very underrated. These can often get overlooked especially when it comes to hairstyles for special occasions. This is about to change.
We have found 23 amazing weave ponytail ideas that will show just how gorgeous and stylish ponytails can be. We have braided looks, stylish side ponytails and more. No matter what your style, there is a ponytail for you.
One of the most popular styles of wearing Weave Braids into A Ponytail. As for any other styles, the ponytail weave braids is a quick, easy and nice looking option if you want to keep your hair away from your face. The ponytail braids can also be styled in various options of the ponytail and they look gorgeous and fresh.
As the braids can be tied in a ponytail, they can easily be styled in a bun. The Weave Braids into a Ponytail is a retro look that has been popular since forever.
The Weave Braids into a Ponytail can be done with all types of braids, thick or thin. There are different looks with the bun but the most popular is the top bun and the half bun.
The top bun is done by wrapping your braids in a high ponytail. from there, the next step is to pull them together, wrap them around the center of the pony and fasten them with another hair band. To cover the band, use few brads over the band.
The half up bun is also a very cute look. the braids are separated into two parts – upper and lower part. The upper part is wrapped in a pony, and then transformed in a bun with rolling the braids over.
The lower part are just the braids, let freely down. So, whichever style you choose, they are stylish and very easy to style.
Weave Braids into A Ponytail Tutorail
Watch The Following Video to Learn How to Do a Weave Braids into A Ponytail
Can A Braided Weave Ponytail Be A Protective Style?
A protective hairstyle hides your ends from exposure but should leave them in a detangled state. For example, once you have properly detangle your hair and pull it into a ponytail, you can then twist down your ponytail and pin it into a bun. A bun or braids easily falls into the protective hairstyle category
How Do You Do A Weave Ponytail With braiding Hair?
Start clean.
Start with your hair down. Refresh your box braids with dry shampoo like the Dove Refresh + Care Volume and Fullness Dry Shampoo. Hold the can about 3-5 inches away from your hair, then spray the dry shampoo at the roots of your hair. Gently massage it through, and then you'll be left with voluminous hair!
Place your ponytail.
Gather all of your hair into a ponytail at the preferred side of your head, or  simply place the pony right at the center of your crown.
You don't want to cause any breakage, so make sure you're gentle and not tugging at the root of your hair. If you have a fresh set of box braids, we suggest creating a loose ponytail to prevent tension. Hold your ponytail in place and begin step 3. 
Secure ponytail with braids.
Take two to three stands of your braids and loop it around the base of your ponytail. Take the ends of your strand and lace it through the base to lock your ponytail in place without using any hair ties. If you're after a much tighter hold, you can insert a few bobby pins.
Final ponytail box braids style.
There you have it! Your cute box braids high ponytail. If you end up wearing this look all week long, we don't blame you. Consider alternating the position of your ponytail if you want switch up the style. This ponytail can easily transition into a bun by simply wrapping you're braids around the base of your ponytail and using bobby pins to set in place.
How Long Does A Braided Weave Ponytail Last?
After your Braided Weave has been installed, it should last about two to three months.
How Many Packs Of Hair Do You Need For A Braided Ponytail?
3 packs of 100% kanekalon hair used. Style Lasts 3-4 weeks. Versatility: Can be worn in a ponytail or a up-do.
How To Style Weave Braided into A Ponytail
When it comes to weave braided designs, there are tons of styles that you can choose from. According to your taste, you can include or eliminate certain aspects of a hairstyle. You can color your hair or leave them as they are, or just add highlights or lowlights.
You can also experiment with different kinds of braids, be it French braid, fishtail braids, or box braid. For these hairstyles, accessories also play an essential role. There are various hair accessories that can be used to adorn your hairstyles.
20 Best Weave Braids into a Ponytail Hairstyle
Braiding hair is a supreme art, and Weave Braids into a Ponytail is an excellent work of art. This hairdo can transform your look from dull and boring to exciting and trendy in an instant.
1. Bubble Weave Ponytail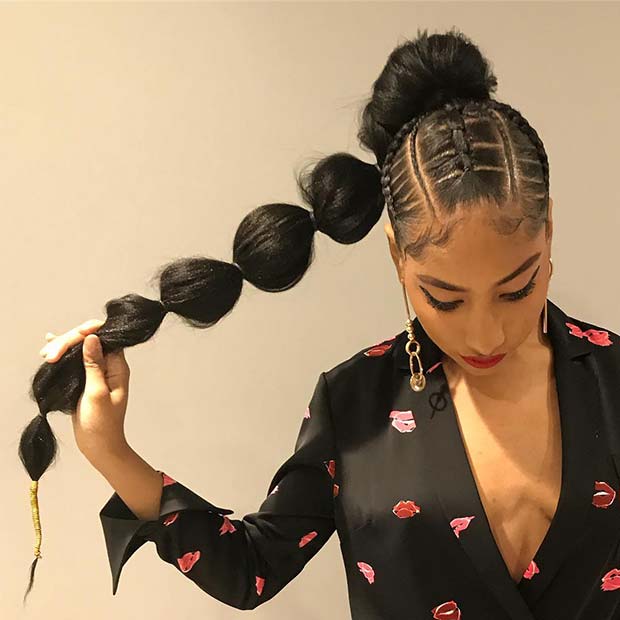 We would like to begin with this bubble ponytail. A bubble ponytail is a stylish, cool and creative hairstyle that will suit anyone. You can find tutorials online to help you recreate the look but usually it involves putting hair ties into the hair all the way down the ponytail. Try the whole hairstyle or maybe just the ponytail without the braids.
2. Curly Ponytail With Braids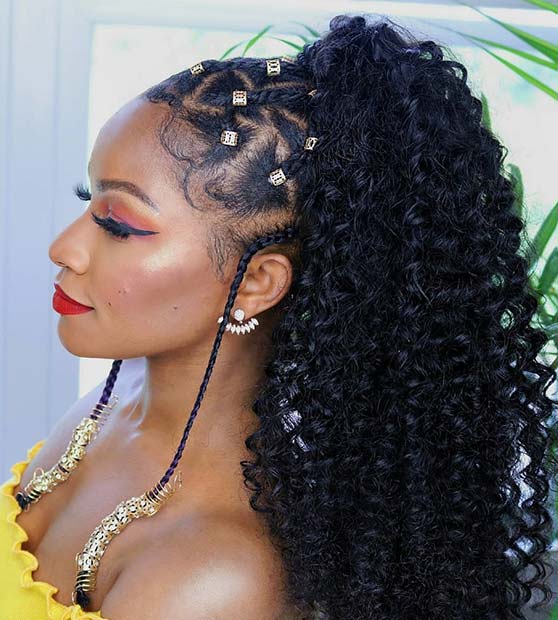 Looking for a glam hairstyle? Then this idea is for you. This ponytail features beautiful curly hair with trendy triangle braids and two loose braids at the front. The braids are also accessorized with gold hair cuffs and more. We love this ponytail, the curls are stunning! Recreate a similar look to this or try a different braid design.
3. Braided Weave into Ponytail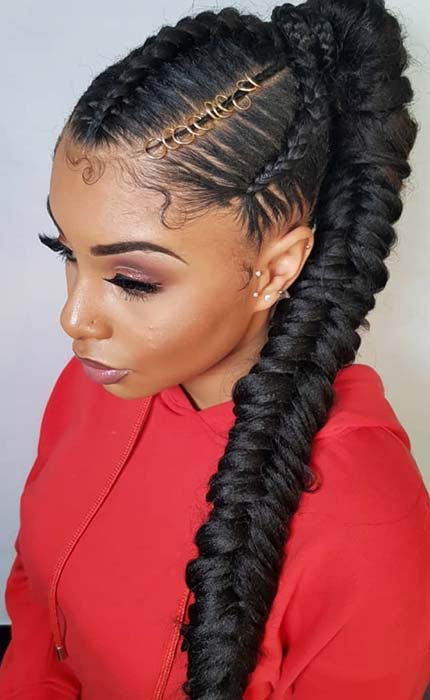 Next, we have a chic weave ponytail. This one is sleek, straight and stylish. There is also a beautiful wrap of hair where the hair tie would be. A hairstyle like this is easy to wear and will give you an elegant look. You can recreate a ponytail like this in any color. Also, try a different hair length or weave style for a pretty, shorter ponytail.
4. Braided Ponytail With Weave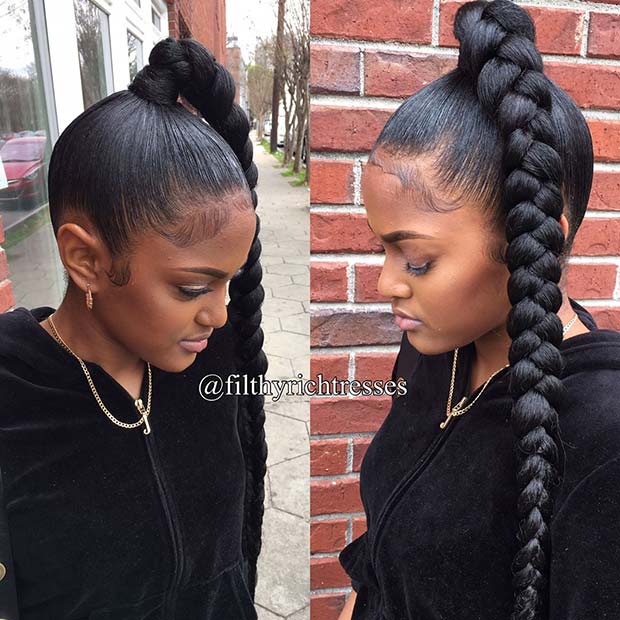 Braided ponytails look amazing, here is a gorgeous example. The hair is braided into a stylish fishtail with a combination of thin and thick braids on the top of the head. This look has been finished off with gold hair rings. A ponytail like this is for the trendsetters. You can try the whole hairstyle or just the fishtail. There are tutorials online to help you with this technique.
5. Braided Side Ponytail Weave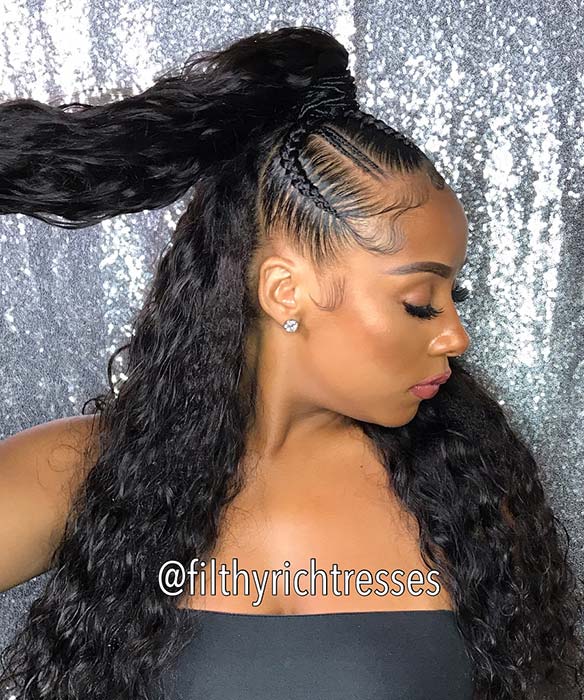 You can't go wrong with a classic braid. This ponytail shows how to wear a braid in a trendy but also easy way. The hair has been styled high on the head with a thick side braid.
For this ponytail, the braid is long but you can opt for a shorter braid too. You can have a braided ponytail like this in any color.
6. Trendy Half-Up Ponytail Weave
Can't decide whether to wear a ponytail or to leave your hair down? Well, with this hairstyle you don't have to! This look features a high ponytail that only uses half of the hair.
The rest of the hair has been left loose. This creates a cute and stylish half-up, half-down look. Recreate a similar style to this or try a different braid design.
7. Curly Half-Up Ponytail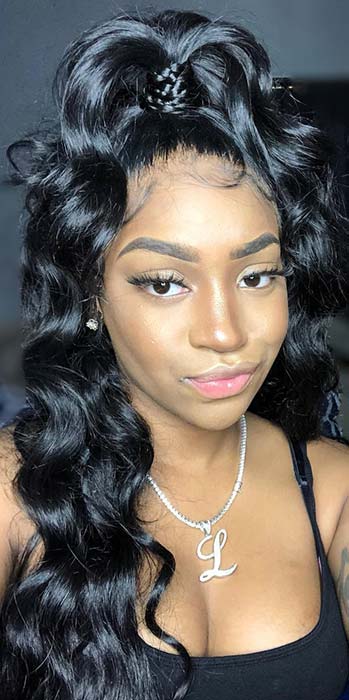 Next, we have a sky-high ponytail. This type of ponytail is loved by celebs like Ariana Grande and Beyonce. It just involves a ponytail that has been styled super high on the head.
You can choose a ponytail like this or choose straight hair instead of wavy. This is also a ponytail that you can style half-up and half-down like the one featured above.
8. Braided Low Ponytail Weave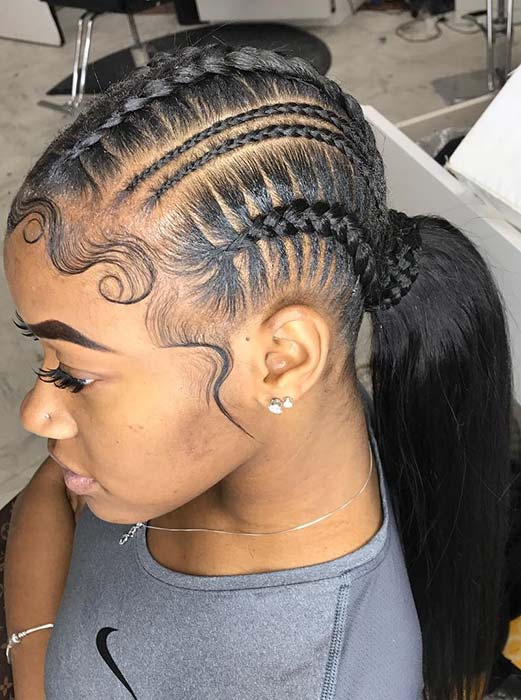 You can make the classic ponytail unique by having a cool braid design. Here is an amazing example. The hair here features a combination of thin and thick braids on the head that then lead to a sleek ponytail. You can use any braided design when creating your own ponytail, you can add funky colors too.
9. High Ponytail With Weave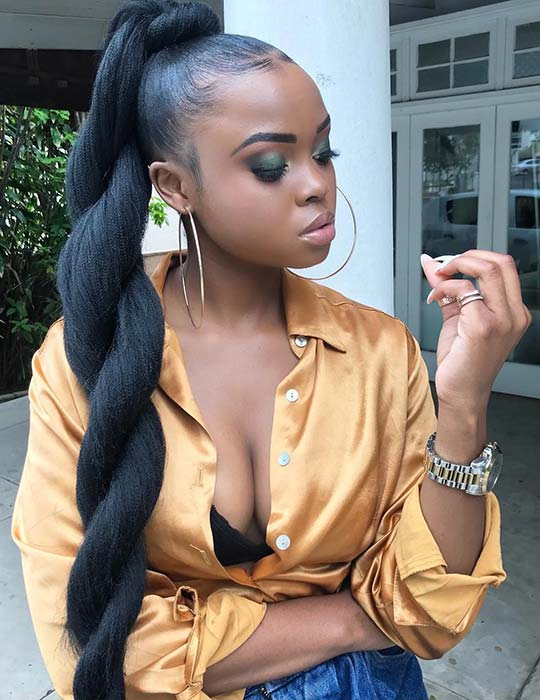 Looking for a trendy ponytail that makes a statement? Then you need to check out this hairstyle. This ponytail is long, thick and features a beautiful twist.
Hair like this is glam, stylish and can be dressed up or down to suit any occasion. You can recreate a long twisted ponytail like this or try a shorter length.
10. Sleek Ponytail With Braids
Our next idea features a beautiful burgundy weave ponytail. The hair is sleek to begin with and then the ponytail is very curly.
We love the curls because they add style and elegance to the ponytail. The color is trendy too, especially for the fall and winter. Recreate this look or try the ponytail in a different color.
11. High Ponytail Braids
If you want this classic braided ponytail with weave hairdo, take all of your hair and braid them into cornrows. Secure all the cornrows on the tip of the head and tie them there into a braided ponytail.
This hairdo is ideal for black girls with their unique hair texture and jet-black hair. Though it is a classic hairstyle, it can look super trendy if you carry it well.
12. Feed-in Ponytail Braids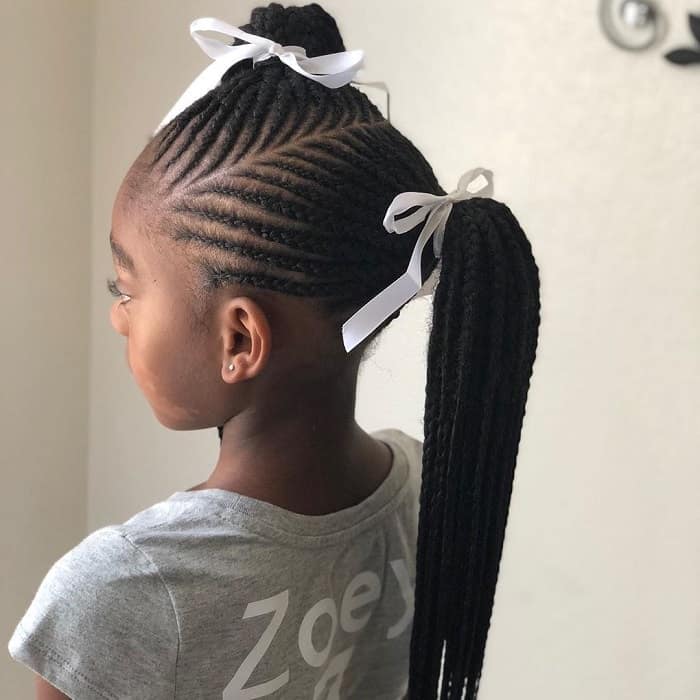 For an absolutely fantastic hairstyle, divide your hair into equally parted horizontal sections. Weave each section into cornrows. Take the cornrows out of each section and turn them into a braided ponytail on both sides.
Tie white ribbons on both the ponytails for added style. This hairstyle seems as if it is out of this world but that too in an extremely positive manner.
13. Jumbo Braids Ponytail into Weave
To get an extremely bold look, take a step forward and get your hair dyed a bright red shade, leaving the roots dark.
Get inverted French braids, stretching into three-strands box braids, join all the braids to give them the shape of a ponytail. This hairstyle will bring out the real you through the boldness it displays.
14. Colorful Box Braids
If you like colorful hair, then add colorful weave to get an icon that hairstyle you will love more than anything.
Get your hair dyed into different colors and weave them all into equally parted cornrows. Secure all the cornrows in a high ponytail. Pick braided strand and wrap it over the ponytail for more style.
15. Ombre Braids
Auburn ombre really gives you a chic look. For this hairstyle, get an ombre to your hair. Get flat cornrows of all your hair and further braid them into box braids.
Connect the cornrows to form braided weave ponytail. You can rock this look in all possible ways.
16. Black Hair with Blue Highlights
For a blue highlights style, ask your stylist to add some pop of electric blue shade to your hair. Knit thin cornrows from your top hair and connect them with the lemonade braids of lower hair.
17. Braids With Beads
To achieve this look, ask your stylist to dye your hair a dark magenta color. Knit thin French cornrows into your top hair and style them with beads.
Connect the weave braids and form a ponytail made of braids. Style the ponytail with beads too because hair accessories make a huge difference and can completely change how your hairstyle appears.
18. Crochet Braids Ponytail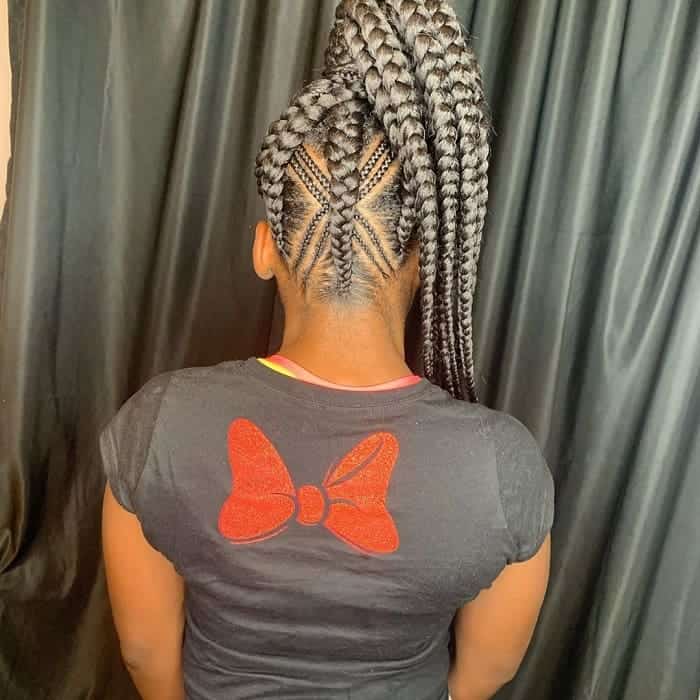 For a designer hairdo, go with metal grey designed cornrow ponytail braids with weave. Color your hair into a metal grey shade and knit intricately designed cornrows into them.
19. Ponytail Stitch Braids
If you have got your natural jet-black hair, then style them with braids. Take the top hair and weave them into alternating thick and thin cornrows.
Stretch those cornrows into three-strands plaits and turn them into a braided ponytail. Add some curly weave hair to your ponytail as well. Gel down the baby hair into swirls for added perfection.
20. Thick Ponytail Marley Braids
Knit thick braids into your weave hair in all directions, coming towards the tip of your head. Combine all the braids to form a braided ponytail. Orange and yellow shade gives your hair the beautiful effect of sunrise.