Hairstyles For Mixed Race Curly Hair Toddlers
Parents already have plenty of responsibilities with their kids so any way they can save time is a win. Having a little hair inspiration can shave down a few minutes of preparation in the morning. Check out these 10 Hairstyles For Mixed Race Curly Hair toddlers that will give your babies some variety.
I can admit I'm not one of those Mums who spends a tonne of time on my biracial daughters' mixed race hairstyles. (I don't spend a tonne of time on my hair either but that's beside the point).
But with three mixed race, multiracial girls, all approaching the age where they want nice 'do's' and not just the simple pony tail to which I've been known to resort, I needed to boost my repertoire.
I needed to find quick and easy creative curly mixed race hairstyles for my girls that I could do once every few days and keep it fresh looking.
Short of watching Youtube videos for days on how to cornrow intricate designs into my daughters' mixed race hair, I have scoured the internet to find easy up dos for mixed race or biracial curly haired girls.
The below should hopefully be inspiring and easy-ish to get done either the night before or at least a few days before as part of your routine
How To Style and Care Tips for Biracial Curly Hair Toddlers
With curly hair, there are a lot of different things that need to be considered when it comes to products and styling tips.
Things like curl type, porosity, whether it's thick or thin or even how moisturized or dry your scalp is all matter in determining the right hair care routine.
Knowing this information about your natural hair will guide you towards the right products for your specific hair type.
But what do you do when you're a baby and your curl type hasn't completely been defined and you have to try to avoid any and all chemicals or harsh scents?
1. Wash once a week at most
People of color tend to have drier scalps and need extra moisture for healthy hair. Washing your baby's hair daily could strip the necessary oils from their hair and make it brittle and dry. Try washing their hair once a week to start and upping it to two times per week if you notice it gets oily more quickly.
2. Skip the fancy stuff and use natural moisturizers
In tandem with the dry scalp tip above, after washing you'll want to add oils and moisture right back into your baby's hair. While there are a ton of baby products on the market, it's best to skip all of them until your baby is a little older.
From the time your baby is born, using the simplest most natural products like coconut, avocado, or almond oil are your best choices. Put a little in your palm and run it through your baby's hair with your fingers.
3. Your fingers are the best comb for curls
If your baby has curly hair, odds are you've been at war a time or two trying to detangle those beautiful locks. While you can use a wide-tooth comb, running your fingers through your baby's hair will truly do the trick! Using your fingers is easier and will help with keeping their natural curl pattern intact.
4. Be careful of certain fabrics
Due to the texture of black baby's hair, any amount of friction with fabrics like cotton or wool can cause their hair to be dry, brittle, and break off. Because of this, it is best to use hats, coats, scarves, pillowcases, etc. that are lined with satin or silk. These fabrics are gentler and will help keep the moisture in the hair rather than the fabric.
5. Embrace Your Mixed Race Curly Hair Toddlers
Having a baby with naturally curly, wavy, or kinky hair may take a little extra research, and I can't always promise the curls will look the same day to day but lead as an example — the more you love your baby's natural hair, the more they will too.
Embrace your baby's natural hair and take the time to learn how to not only take care of it but how to have fun with it! Sure, the texture or style may be different from what you might have or what you see online but dig into the fun of using trial and error to play around and find what works best for your baby's specific hair type.
CURLY HAIRSTYLES FOR MIXED TODDLERS
Most of the babies don't care about their hairstyle as it is which gives you the power as parents to try any haircut on them as long as they are steady! Curly haired toddlers are sassier and look adorable.
While you are on styling your toddler curly hair journey browse these options and you will be amazed how much you can change up a hairstyle.
What could be more lovable than seeing your baby's curl dangling from his head with a nice cut? Try out these options and get your mixed toddlers hairstyle done in no time.
1. Half-Up Bun Hairstyles For Mixed Race Curly Hair Toddlers
This half-updo adds two stylish twist buns wrapped in golden wire sits high atop the head.
2. Headband Puff Hairstyles For Mixed Race Curly Hair Toddlers
If your young one has hair that is not quite long enough to put into a ponytail, any type of headband will pull the hair back into an adorable puff.
2. Half-Up Half-Down Ponytails
Longer curls can be split into two horizontal sections to create beautiful half-up half down ponytails.
3. Banded Half-Updo Hairstyles For Mixed Race Curly Hair Toddlers
This semi-advanced style requires mini elastics, a sectioning comb and a kid-friendly edge control. After the hair has been washed and stylers applied, make one large part from one ear to the other. Clip the bottom half of the hair out of the way and work on the top half.
Determine how many vertical sections are needed and create small ponytails that are pulled vertically into the next. Use edge control to smooth any flyaways.
4. Sleek Baby Fro Hairstyles For Mixed Race Curly Hair Toddlers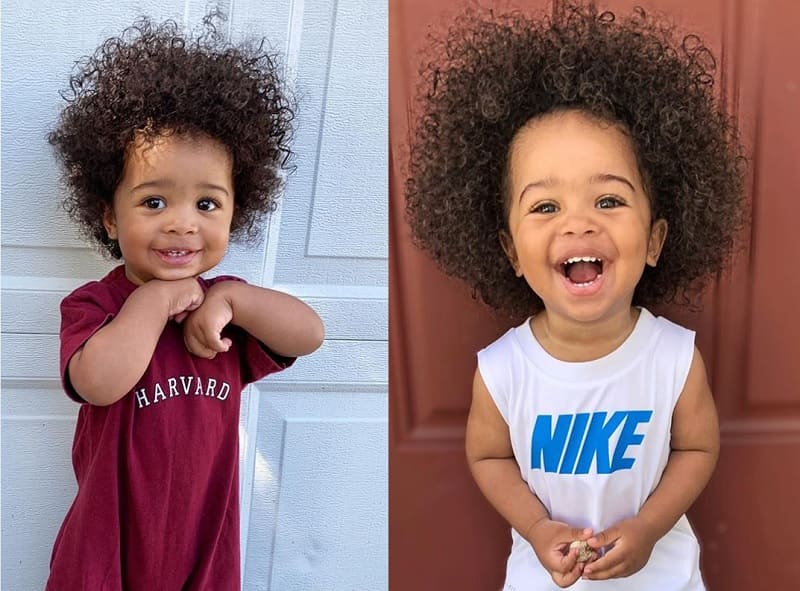 Add a sleek touch to your baby's Afro by adding a small side part and smoothing down the hairline horizontally with a brush and baby-safe edge control or gel.
5. Two Strand Protective Style
Protective styles are not just for grown ups! After moisturizing the hair with a styler, create several sections on each half of the head and add individual two strand braids. If the ends unravel easy, try mini elastics to hold them in place.
6. Afro Puffs Hairstyles For Mixed Race Curly Hair Toddlers
Sure to be one of the most adorable styles, baby Afro puffs give Minnie Mouse vibes to any child. This can be done on day old hair by parting the hair down the center, then creating to high ponytails on each side. Use a pick to fluff out each ponytail.
7. Heart Shaped Ponytail Hairstyles For Mixed Race Curly Hair Toddlers
Longer curls can tackle this fancy ponytail that's perfect for weddings and other special events. A classic heart shaped ponytail starts by parting the hair down the middle into two parts.
Next, create another part along one side starting at the crown and curving the heart towards the ear. Clip near the ear then begin a dutch braid using the hair from outside the heart part.
Braid until you reach the back of the ear then unclip the other section. Continue braiding until you reach the nape of the neck then clip again. Repeat this entire process on the other side up until you reach the nape of the neck.
Unclip both sections then combine all the hair together. Split into three pieces and continue with a regular braid. Secure with an elastic to hold the braid in place.
8. Bow-Tie Ponytail
If a bow-tie dresses up a shirt, it can surely do the same for your ponytail. A simplified version of the image shown is to smooth hair into sleek ponytail and secure with an elastic.
Next, take two large pieces from the back of the ponytail and wrap them towards the front. Secure the two pieces into another ponytail but before pulling all the way through the elastic, leave it in a tucked position with a longer piece hanging.
Next, press the tucked bun towards the base and wrap the longer piece over the middle. Pin well so that it resembles a bow.
9. Fancy Wand Curls
When events come up, using a wand creates polished curls that are perfectly symmetric. For uniformed curls, a clipless curling iron gives the faster results.
10. Simple Half-Up Ponytail
Smoothing a small horseshoe section into a clip or ponytail is a simple way to pull away any longer curls and keep them out of the face.
Babies are jaunty and cute, be it their giggle or blubbering or when they start to babble you won't be able to resist holding them. With a unique hairstyle, toddlers will get more attention and turn everyone's head.
Make your toddler stand out in the crowd by flaunting their curly hair and keep in mind their face shape while choosing the right hairstyle.