August Alsina Hairstyle Haircut Tutorial
In this tutorial we have discuss August Alsina Hairstyle and how to achieve this look for yourself. few years ago, August Alsina was considered to be one of the main artists to carry R&B into the future.
Fast forward to today and Alsina hasn't been deep in the music industry for many years. The singer was trending on Twitter this weekend, with many folks tweeting reminders of the singer's health issues and tragic
family incidents that have left him as a caretaker right now. August Alsina voluptuous hairstyles are still the the forefront of a-lot of his fans minds especially the females.
Alsina first broke onto the scene in 2013 with his hit single, "I Luv This S**t." The song was a huge success, especially on urban radio.
Reaching No. 48 on the Billboard Hot 100, it is also his highest-charting single as the lead artist. The original version of the song featured Trinidad James and R&B singers Trey Songz and Chris Brown.
His debut album, Testimony, was released in 2014 and it reached No. 2 on the Billboard Top 200. The album featured the singles, "Make it Home" and "No Love," featuring Jeezy and Nicki Minaj, respectively.
He was featured on multiple hit singles in 2015, including DJ Khaled's "Hold You Down," which also featured Chris Brown, August Alsina, Future, and Jeremih.
His second album, This Thing Called Life, was released in 2015 but did not reach the same amounts of success as Testimony. 
In 2016, he was featured on another hit DJ Khaled single, "Do You Mind," which also featured, Chris Brown, August Alsina, Future, Rick Ross, Nicki Minaj, and Jeremih.
As of now, this is his last major single. He hasn't released a lot of music since 2017, only a few songs here and there.
August Alsina Hairstyle, Haircut Tutorial. A new year has passes, and a new look for August Alsina, who revealed a new haircut on Instagram over the weekend.
Last week, Swae Lee switched things up with a new thot boy hairstyle that left the Instagram verse buzzing. Now, August Alsina is the next person to experiment with a new haircut.
Taking to Instagram on Saturday night to debut his two man buns – complete with chopsticks – it seems the singer is giving a nod to both Asian culture and the early 2000s: Follow our August Alsina Haircut Tutorial on how to achieve this look
August Alsina Curls have gotten girls begging on their knees for a long time. Admit it: when you think of men with curly hair, you're picturing the untamed tresses of a Game of Thrones heathen or the overly-tamed wig of a 17th century French nobleman.
What you're forgetting about are the lovely locs that have become Entourage star Adrian Grenier's signature style, or Justin Timberlake's notorious closely cropped curls.
But we're here to abolish those curly stigmas. Remember when your mom told you to eat your crusts to get curls? Mum always knows best.
Plus, curls get the girls, it's a fact. Luscious, thick, full hair is innately attractive to a woman because a) it means you're not going bald any time soon and b) your children are likely to inherit the same attractive hairline.
Naturally wavy hair can pose a few challenges, but it also has the advantage of looking fuller and standing out from the omnipresent crowds of straight-haired, side-parted clones. We say it's time to embrace your mane's twists and turns, with these August Alsina's curly hairstyles.
August Alsina New Hairstyle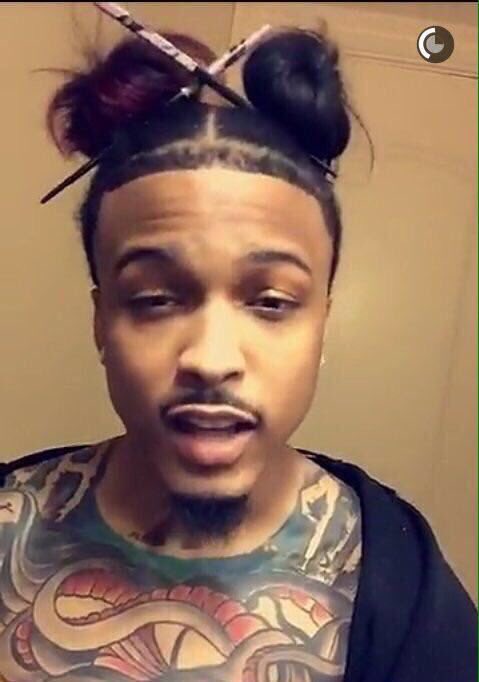 The R&B singer has been experimenting with his natural hair for some time now, opting for twists twist-outs, buns and ponytails. And as usual, the masses weighed in on August Alsina's new haircut.
With commentary ranging from "WTF" to "good for him," the singer got some potent commentary on his 'do. So far, he hasn't offered any explanation or retorts, but he has become a trending topic on Twitter. Peep what the people have to say below:
His Fans don't know what to make of it, some comparing him to Mickey Mouse, a samurai or a ninja. There's been feminine comments about his new haircut as well, but others are defending his choice of style, saying
there's "nothing wrong with August Alsina new haircut. He knew the 'gay' slander would come but didn't care. His masculinity is not fragile," wrote one fan.
What do you think of August's new haircut? Hairdo or hair don't?
How to get August Alsina Hairstyle
Depends on the texture of your hair. That's basically a grown out fro with taper sides. Some people's hair can do that naturally which is called free forming but if you don't want to do that it can be twisted around the top of the fro which is called coils.
Only do the top top part's of the hair to achieve this look because if u twist all the way to the root the look will be more like baby locs. Check out video's on youtube for more instructions
A few tips for men's curly hairstyles to consider are;
If your hair strands are on the thicker side and you can't manage the day to day styling, ask your hairstylist for some razored out pieces haphazardly cut throughout as this will give your hair more manageability and also be less buffi.
Don't use a dry matt product as this will only make your hair larger than life and also your curls will be less defined.
To keep your curls looking and feeling soft, make sure you use a moisturising conditioner to keep hydrated.
When having your haircut, I always point cut the very ends, as this gives your curls more softness rather than cutting a blunt straight line which will only give the illusion of a "boxie" hard edged appearance.
We all know that curly hair isn't the easiest to manage. One minute you're rocking glossy Shirley Temple ringlets and the next you look like Lenny Kravitz, and not in a good way.
It might seem like one extreme or another for guys with curly hair, but there are some easy ways to maintain those waves and have them looking pristine and effortless in no time.
Shampoo only once every 2-3 days to keep hair from getting dry, and use a moisturizing conditioner to cut back on frizz.
If your goal is tight and tidy curls, use a high-hold, matte-finish styling product, and work it in from the roots when your hair is still damp.
If you want to maintain volume in your curly mop, use a moisturizing sea salt spray.
August Alsina Haircut Tutorial
August Alsina Curly Hairstyles: How To Wear It:
Now you've mastered curly hair maintenance, let's get down to hairstyles. Whether you prefer it long, short or in between, luckily there's plenty of inspiration from the fashionable fellas of Hollywood.
Game of Thrones heartthrob Kit Harington is a prime example of long curly hair done right. The actor keeps his tresses shoulder length and fuss-free.
If you're partial to a shorter style, One Direction's Harry Styles and Gossip Girl's Penn Badgley make a statement with styles that are longer on top and cropped around the years.
As for mid-length styles, look to Orlando Bloom and Matthew McConaughey for slicked back and sharp hairspo.
Styles to avoid are anything that resembles Justin Timberlake during his NSYNC days or the parted ringlets of Lost's Hugo Hurley.
Watch this August Alsina hair tutorial for a visual presentation on how to get August Alsina Hairstyle
If you've ever seen a hairstyle you loved and thought, "I wish I could get that with my curly hair," wish no more! Curly hair can get a bad rap for being hard to work with, but it's as versatile as any other hair type.
August Alsina first hit the music industry in 2013, when his song, "I Luv This Shit," became a success. Since then, he has gained a pretty strong fan base.
Over time, he has rocked multiple hairstyles From short curly styles to long man buns check them out below
August Long Haircut
He is every natural girl's hair goals with his iconic, long curly twist outs. Every curl is defined.
August Man Bun Haircut
Who can forget the time when man buns were all the rage? August Alsina joined the trend and rocked his for a short while.
August Alsina Afro Hair
August was in formation before Beyonce. He proudly rocks his fro and a dashiki for a bonus.
August Alsina Curly Haircut
As time has passed, August's hair texture has become looser and curly. I think it's safe to assume he may have had some chemical assistance. Or perhaps he has found the right medley of hair curl products?
August Alsina Asian Buns
think this is his most talked about hairstyle to date. Fans were shocked when he posted a picture on Snapchat of his two buns complete with chopsticks.
August Alsina Hair Extensions
August Alsina's most recent hairstyle looks as if he has some braided extensions installed. It's also a possibility that this is his take on the faux dreadlocks look.
As you can see, August loves to switch his styles up. What will he have next for his fans?