Spider Web Box Braids Spider braids
Spider braids or Spider web box braids hairstyle is so trendy that every women can wear during the hot summer holidays.
Do you want to know what the best part about spider web braids or spider box braids is? There is definitely no need for a stylist to do it for you. All it requires is a little bit of patience and practice!
Spider braids hairstyle is so great that every woman can sport during the summer months. Do you want to know what the best part about spider web braids is?
There is absolutely no need for a professional to do it for you. All it requires is a little bit of patience and voila!
What Are Spider Braids?
Spider web braids is a new trend in the hairstyle industry. By now you have seen many different hairstyles including crochet braids, box braids, cornrows, and many more protective style that lies in between.
But, trust us when we tell you that you haven't seen anything as beautiful as spider web braids.
This particular braiding style is very beautiful to wear and is symbolized by two things – prominent parting pattern and thick braids.
Spider Web Jumbo Box Braids
You've seen box braids, crochet braids, cornrows, and every other type of protective style in between. But you sure haven't seen anything like Spider box braids.
This gorgeous braiding style is characterized by thick braids and a prominent parting pattern. Spider web Jumbo box braids make for a quick and easy protective style
that is great for hot summer months and for people who don't like to spend much time on styling their hair on a daily basis.
And, the best part is that with just a little bit of practice, you can do them yourself right at home!
What You Need For Spider Box Braids
Wide toothed comb
Rat tail comb
Sectioning clips
Edge wax
Hair elastics
Hair extensions
Lighter
Boiling hot water
How To Do Spider Web Box Braids
Do a hot oil treatment, wash, and condition your hair the day before you jumbo box braid it.
Use a wide toothed comb to remove all the knots and tangles from your hair.
Section away all the hair at the top of your head, leaving loose the hair from about 3 inches above the nape of your neck.
With the tail end of your rat tail comb, create a square shaped parting about 3" x 3" in size.
Smoothen down the edges of the parting with edge wax and tie the hair tightly with a hair elastic.
Repeat steps 4 and 5 to divide all your hair and form the foundation of your jumbo box braids.
Pick up a thick weft of hair extensions and fold it in half to form an upside down U.
Place either side of the U on either side of one section of your natural hair.
Redivide the hair extensions into 3 sections and add your natural hair into one of the sections.
Braid with these 3 sections right till the end and secure it by burning the ends with a lighter for about 3-5 seconds.
Repeat points 7 to 10 on all the sections of hair to create your jumbo box braids.
Dunk the ends of all your braids in a mug of boiling hot water to fuse them together and secure them completely.
Watch The Following Video tutorial to Learn how to do the Spider Web Box Braid Hairstyle
10 Best Spider Web Box Braids Hairstyles
Parted Jumbo Spider Braids
When it comes to creating the partings for your Spider Web Braids, it's a crazy world out there. Simple square and diamond patterned partings are one thing, but these spider web partings take the look to a whole new, very cool level.
Throw in some brown accent braids and tie half your hair up in some space buns to show off your cool look.
Texturized Spider Braids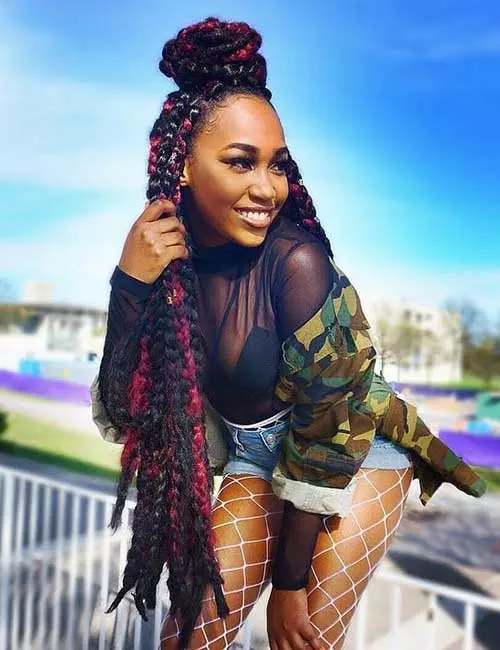 Yes, you can play around with colors when it comes to styling your Spider box Braids. But there is another way that you can experiment with your style here.
You can play around with textures! To create a fashion forward hair look, you can go for some texturized spider box braids accented with some red extensions and tied up in a half bun.
Violet Spider Braids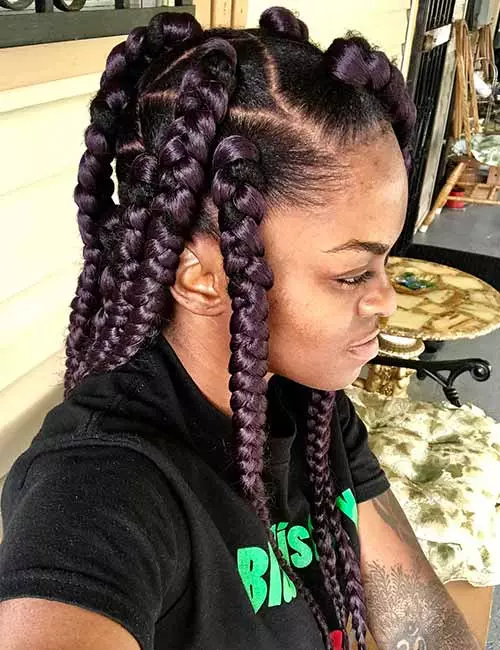 Unleash your inner goth chick into the world and go for some awesome dark Spider Box Braids. A dark violet hue will serve you well to match your emo persona. Do them up in a triangular parting pattern to make for a simple but gorgeous hair look.
Navy Blue Spider Braids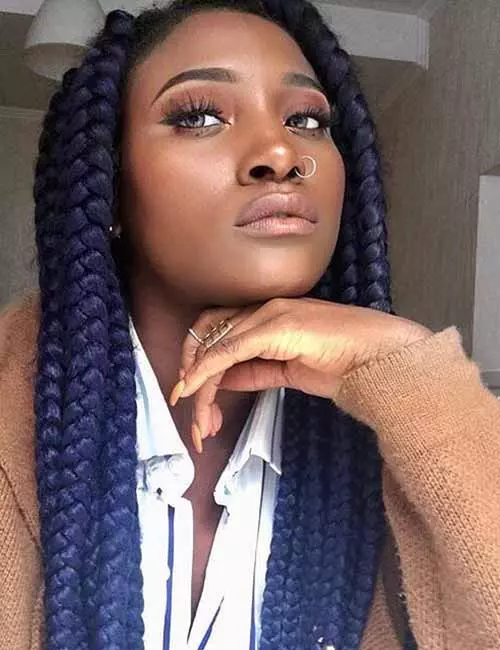 If your style statement relies on subtlety, then you need to pick out colors for your braids that do not scream for attention.
These navy blue Spider Box Braids look sleek and gorgeous as they are. But when hit with light, they come alive to make to make you look like an absolute angel.
Glossy Brown Spider Braids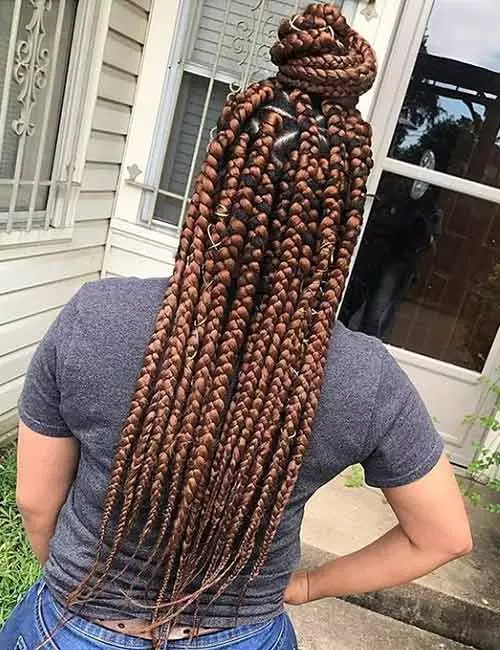 It's amazing how changing your hair color can transform your whole appearance. If you're looking for a fresh start and want a hair look to go with it, here's a Spider Box Braids style that will serve you well.
Do your Spider Box Braids up with some glossy brown extensions and tie them up in a half bun to create a stunning hair look.
Spiral Accented Spider Web Box Braids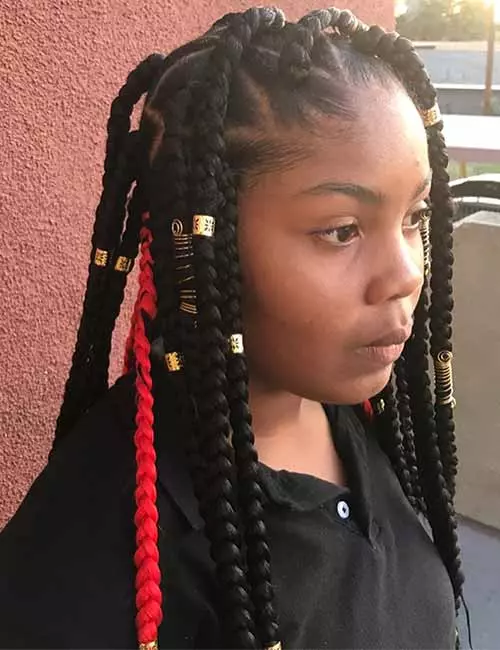 Up your Spider Box Braids to a whole new level with this accessorized look that is one for the ages. Start off by getting your Spider Box Braids done up in diamond shaped partings.
Throw in a couple of braids in a bright red shade to add a pop of color. Finish off by accenting the braids with some gold bead and spiral accessories to complete your flawlessly fierce look.
Triangular Parted Spider Web Box Braids
Jumbo Spider Box Braids are all the rage and we all know that. But did you know there's another way to make them look even more beautiful?
With some interesting patterned parting! Since your partings are super prominent in Spider Box Braids, you can go for this awesome triangular pattern that will make for an edgy hair look.
Side Parted Spider Web Box Braids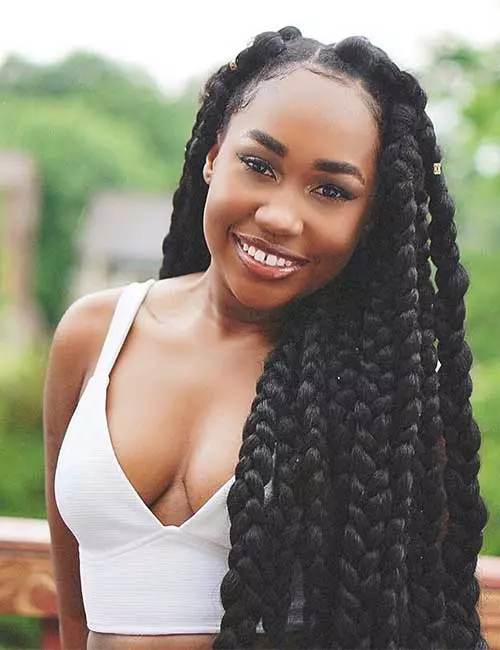 Just because you're going for a protective style does not mean that you have to go crazy and over the top with it. This is especially important if you work at an organization that frowns upon colored hair.
So, what can you do? You can go for some simple black spider box braids parted on one side to create a chic and elegant hair look.
Blue Ombre Spider Web Box Braids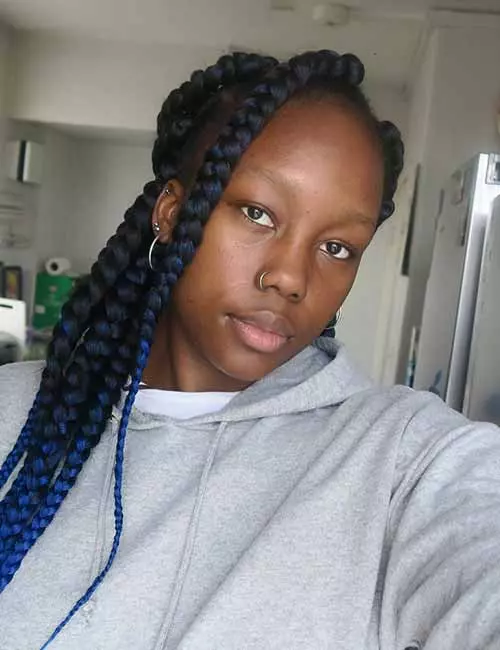 You know what's great about sporting Spider Box Braids? It's that you can still sport the latest hair coloring trends without damaging your natural hair one bit!
For instance, you could rock these blue ombre jumbo Spider Box Braids in a half up style to look totally baller.
Gold Beaded Spider Box Braids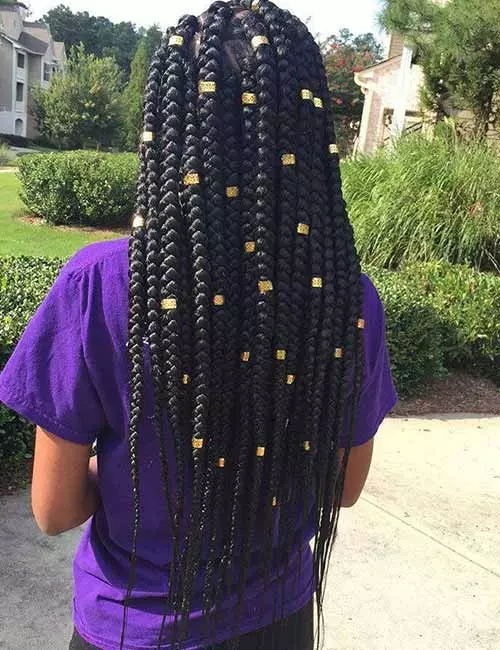 When you get basic jumbo Spider Box Braids, it can be pretty easy to get bored of them within a few weeks. Infuse new life into your protective style with the help of just a few gold bead accessories.
Insert them on your braids as and where your heart desires and watch your simple hair look transform into something magical!
Conclusion:
There you go, ladies! Our rundown of the best ways to style your beautiful Spider Box Braids! Comment below to let us know which ones you can't wait to try out!