Simple Hairstyles That Last 3 Months
Looking for Simple Hairstyles That Last 3 Months ? How much time daily would you like to spend on your hair styling?
I bet minimum 10 mins to 15mins but you definitely wouldn't like going out with your hair sticking out in some sort of explosion on your head.
Well, African-American women are blessed with thick dense hair that can be skillfully shaped into breathtaking hairstyles.
15 Best Hairstyles That Last 3 Months
Here we are going to share 15 Best Hairstyles That Last 3 Months that are very showy protective hairstyles.
Havana Twists Hairstyles That Last 3 Months
Among protective hairstyles for natural hair, Havana twists stand out through grace and style. Havana twists are made from a variety of twists and turns in your hair. It's a wonderful solution to thick hair! The hairstyle includes chunky twists, done with natural hair and extension.
Bantu Knots Hairstyles That Last 3 Months
Bantu knots shine as a traditional African hairstyle treasured to this day. They look amazing and do a fantastic job of protecting natural hair. And these cute knots are not demanding to the length of your natural hair.
Crochet Braids Hairstyles That Last 3 Months
Crochet braids are on the top of the list of protective styles to try as an alternative to traditional sew-in weaves. Honestly, crochet braid styles are great year-round, and it results in bouncy ringlets that also help you secure your existing locks.
Box Braids Hairstyles That Last 3 Months
Box braids are super awesome when you're looking for a good protective style and as well as giving you the opportunity to add some impressive length to your own hair.
There's no denying the cuteness of box braids, no matter what style you get them in. They can shield your natural locks while they grow and there less of a chance that they will be damaging to your hair.
Cornrows Hairstyle
Cornrows are another classic protective hairstyle that can be done on all lengths of hair. First, take a section of hair starting at the front of your head from the root. Then, split that section into three even sections.
Braid your hair as you normally would, but after you've braided the hair once, add hair to each strand as you continue to braid down the back of your head.
When you reach the end of your scalp, continue braiding normally down the length of your hair before securing the hair with a clear elastic. Repeat this all over your mane.
SENEGALESE TWISTS
Can't get enough of twists? Neither can we! Senegalese twists are another beautifully-twisted protective hairstyle. First, take a small section of hair and split it into two.
Then, split those sections into two so you have four equally-sized sections in total. Take two strands and twist them around each other as you normally would, then take the other two sections and do the same.
Finally, to complete your Senegalese twist, wrap your two twists around each other by moving your right hand in a clockwise motion and your left hand in a counter-clockwise fashion.
GHANA BRAIDS Hairstyles That Last 3 Months
Ghana braids involve a combination of cornrows and traditional braids. They're thick, beautiful, and typically require using hair extensions.
First, create cornrows that go to the nape of your neck, making sure to include your extensions! Then, finish the braids off by weaving the remaining length of your hair into traditional three-strand braids.
DUTCH ROLL Hairstyles That Last 3 Months
A Dutch roll is another easy protective hairstyle. First, put your hair into a low ponytail at the nape of your neck. Then, pull your hair apart just above your hair tie to create a pouch. Tuck the ends of your ponytail into the pouch you created and pin away. Easy, peasy!
TWISTED UPDO Hairstyles That Last 3 Months
Throw your twisted locks into an updo! Whether you have traditional twists, flat twists, Senegalese twists, or another type of twist, you can switch up your look by gathering your strands into a large, textured bun on top of your head.
DOUBLE HALO CROWN BRAID
They say two is better than one—and we can't argue with that when it comes to this double halo crown braid. This hairstyle is the same as a traditional crown braid but has two braids going across your head instead of just one.
SIDE TWIST Hairstyle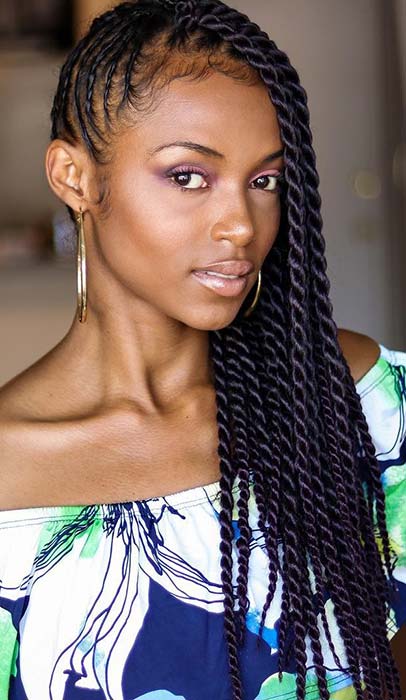 Similar to a side twist updo, you want to part your hair to one side and twist your hair to that same side. Rather than twisting your'e ends into a bun, continue twisting downwards to create a twisted side ponytail.
BUN MOHAWK Hairstyle
Another faux hawk style? A bun mohawk! Slick your hair upward before creating three to four equally-sized buns down the center of your head. Feel free to braid the sides or slick them back with hair gel.
PINEAPPLE UPDO
A pineapple updo is a protective hairstyle that can be worn to bed and out on the town. It's also super easy to do! First, gather your hair at the top of your head as if you were to create a high ponytail.
Loosely secure the hair with a scrunchie. Pull the hair forward and position it how you like for a messy, fun updo.
TWISTED LOW BUN
This updo involves the same steps as the twisted side updo, but is at the back of your head instead of the side. It's the perfect 'do for any occasion and will keep your mane off your neck and out of your face!
BRAIDED CROWN
Want a protective hairstyle that will be the star of your beauty look? Look no further than a braided crown. Combine the style with a low bun for a look that's chic, elegant, and beneficial to your strands.