Color Box Braids on Light Skin
Color Box Braids on Light Skin are very popular which means you have probably worn these braids many times before.
With that said, you may be searching for a new look. One way you can change up your usual hair and jazz up your box braids is by adding trendy colors.
There are so many stunning shades available and we have found 23 pretty box braids with color to give you some inspiration.
We have something for everyone from rainbow colors to statement making shades to beautiful ombre.
Box braids are a type of hair-braiding style that is predominantly popular amongst Africans and African-Americans.
This type of hair style is best described as "protective style" and is "boxy", consisting of square-shaped hair divisions.
Box braids are generally created by using synthetic hair to help add thickness as well as supporting the real hair in the braid also.
Because they are not attached to the scalp like other similar styles such as cornrows, box braids can be styled in a number of different ways.
The installation process of box braids can be lengthy, but once installed they can last for 6-8 weeks. They are known for being easy to maintain. However, these braids can also be done with natural hair.
How To Style Color Box Braids On Light Skin?
Buns. This is probably the most popular way to style your box braids into a chic updo. The major advantage of buns is their variability. High buns can be bulky or more compact, loose or tight, simple or with elements of braiding.
Ponytails. Make a high ponytail, wrap it with a beautiful silken scarf or attach a hair flower, and you already look awesome.
Twists. They are an additional element that you can introduce into your creative hairstyles. You can twist your ponytail or front section off your forehead, for instance.
Braids. Asymmetric braids from box braids, wrapping either side of your forehead are a brilliant idea.
Rainbow Color Box Braids With Buns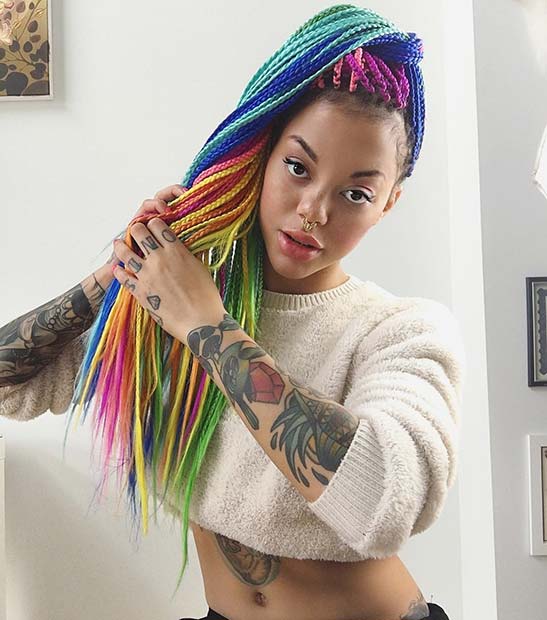 The first idea we have to show you are these awesome rainbow box braids. These box braids are in a variety of vibrant shades from blue to yellow.
Hair like this is perfect for anyone who wants a dramatic and fun new look. Rainbow braids would be great for the summer too.
Colorful Box Braids With Ponytails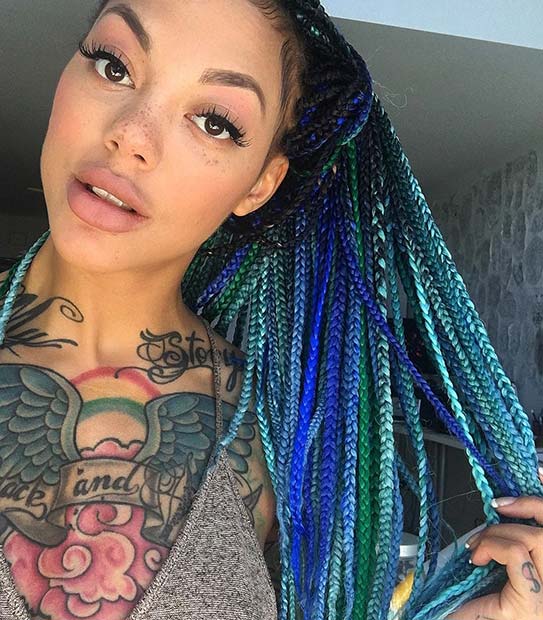 These braids use a variety of different blue shades with added green. This is an awesome multi tone look. Hair like this would be great if you want a creative and unique hairstyle. You can use this multi tone idea with other colors too.
Purple To Pink Ombre Box Braids With Twists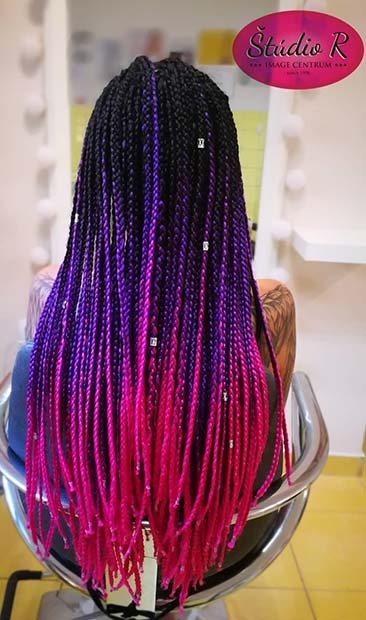 Looking for a statement making hair idea? Then this next pick is for you! Here we have box braids with a purple to pink ombre.
The top of the braids are dark, then turn purple and then pink at the ends. Hair like this is bold and will get you noticed! You can recreate the pink and purple or choose two other colors.
Colorful Bold, Blue Box Braids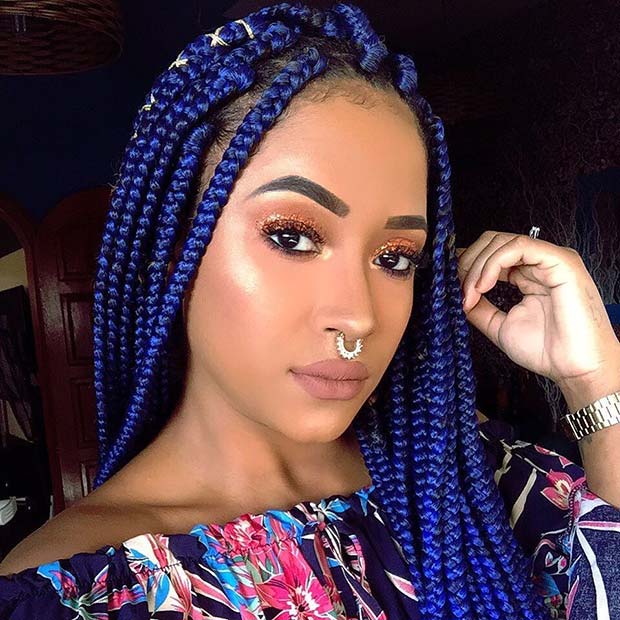 Another popular color choice for box braids is blue! These next braids have been created with a beautiful dark blue. We love how stylish and bold the color is.
You can use statement shades like this to jazz up the simplest of braided styles. If the dark blue is not for you, you can choose lighter blue too.