Sew In Hairstyles For 12 Year Old
Sew In Hairstyles For 12 Year Old, We all love our kids and always want the best for them! Whether kids should wear hair extensions or not has been a lifelong debate.
However, we are here to tell you that using hair extensions for kids is absolutely fine! The correct question to ponder upon is at what age should kids wear weaves or hair extensions?
Making kids wear hair extensions is okay but only to a certain extent. So many protective hairstyles are suitable for kids, such as short kinky twists or cornrows, crochet braids, box braids and so much more.
All these hairstyles are very common in our culture. Hair extensions for kids are also helpful in maintaining healthy natural hair, and preventing exposure to dryness and pollution.
The subject of children wearing extensions and weaves has been hotly debated in recent years. Some say there's nothing wrong with it and argue that these hairstyles can actually be good for children's hair. 
Others contest that they can damage children's hair, with some going as far as to say it's irresponsible parenting.
What is an appropriate age for your child to get sew ins
The appropriate age to truly consider weaves or extensions depends on the child's maturity level and hair health. However, we suggest you wait until your child turns ten or twelve years old before introducing her to protective hairstyles
Angelina Jolie and Kim Kardashian are among the celebrity parents who have been questioned for giving hair extensions to their children Zahara Jolie-Pitt and North West respectively. So which of these views is correct and what are the arguments for and against?
Easy sew in hairstyles for 12 year old
Like with any protective styling, there are benefits to wearing one's hair in weaves and extensions, such as saving time, protecting one's hair from the elements and avoiding over manipulation which can lead to breakage.
Equally, if executed incorrectly, weaves and extensions can damage anyone's hair, not just that of children. However, it will come as no surprise that children's hair is more fragile and their scalp (and skin in general) is more sensitive than that of an adult and more easily damaged from heavy or overly tight hairstyles.
Kid-friendly sew ins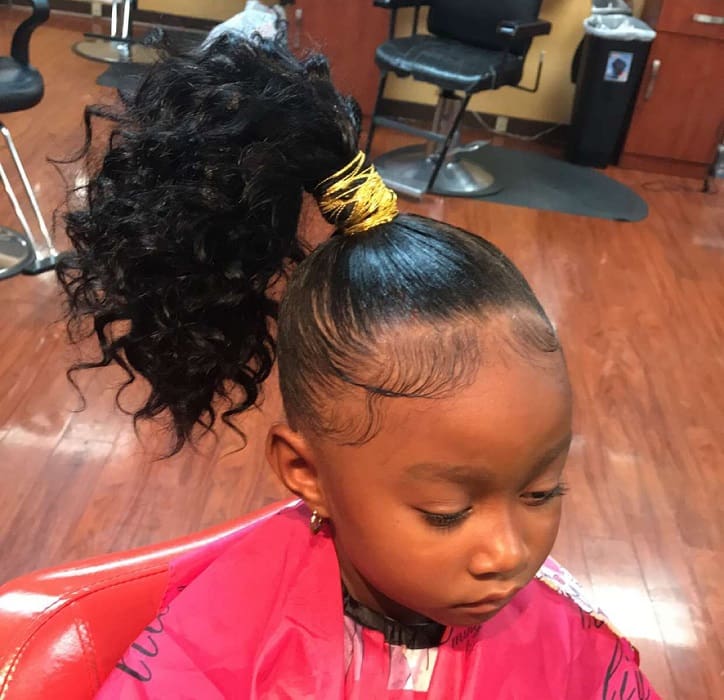 There are plenty of protective styles that require minimal to no weave/extensions. These include flat twists, two stand twists, cornrows, and the list goes on.
Our recommendation is that if you are installing hair extensions on a young child; try to keep the style lightweight and short or medium length.
Sew-in weaves
Hairstyles such as sew-in weaves and crochet braids are amongst the biggest offenders as hair can often be sewn or crocheted in too tightly, leading to excess tension and pulling on the hairline especially.
This is exacerbated by the fact that children are less able to judge when hair is too tight and may not feel comfortable speaking up to parents and hairdressers when they are in pain.
Moreover, damage done to the hair and scalp as a child can have lasting effects that continue into adult life.
This seems to be the biggest no-no from the general community, and parents who decide to give their children weaves have come under much scrutiny, receiving mostly negative attention.
Weaves are typically associated with adults, with most women asked having had their first weave experience in their late teens or early twenties.
​This age is now getting younger and younger, with sew-in weaves now common place in many high schools and becoming more popular in primary schools.
Conclusion:
No matter how old your child is, if you are considering using hair extensions on her make sure they are of good quality! 
Darling Twinkle collection is your ultimate ally since they are extremely light weight, easy to install and gives a natural look.
The general consensus seems to be "it depends". There are different ways to incorporate extensions into hairstyles and some seem to be more controversial than others when worn by children.
What do you all think? What is the right age for kids to wear weaves or hair extensions? Let us know in the comments!