Purple Braids on Dark Skin
Wanting to try purple braids on your dark skin tone? If you've shied away from doing your braids with different colors because you assumed vibrant colors wouldn't pair well with your darker skin tone, think again.
Purple Braids on Dark Skin is actually the perfect reason to embrace a variety of shades including pastels, grays, platinums, and honey hues.
"Dark-skinned women tend to have lots of natural warmth in the skin and hair, So you can work with warm or sandy palettes, or go against the grain of your natural warmth to give your skin tone contrast and dimension.
Celebrities like Viola Davis, Tiffany Haddish, Gabrielle Union, and Rihanna are all great examples of women who have boldly experimented with some of the best Purple Braids for dark skin tones. And according to these beauty experts and master hair colorists, you can too.
Purple Box Braids on Dark Skin are versatile and always look gorgeous. One of the must-have styles are Purple Braids on Dark Skin. These long braids can be a variety of lengths from the bottom of the back and beyond!
We love these super stylish braids and have put together 10 of the best looks to inspire you. You will find bold, vibrant braids, accessorized hairstyles and more.
Suitable Hair Color for Dark Skin
You have dark skin and looking for the perfect braided hair color that'll suit you. Well, it's not a surprise that not all hair colors suit all the skin tones. People spend a long time evaluating their skin color and matching it with the right hair shade.
You might be dreaming to try some Purple Braids, but you may feel as if your dark skin might not make it look as exciting as you wish.
In order not to get stuck with the wrong hair color that can make you look like a clown, you need to know which hair color looks good with your dark skin.
Thankfully, this matter has been extensively studied by hairdressers and women, who love to experiment with their hair. Here is some advice to help you choose if purple braids on dark skin is the right shade for you.
10 Best Purple Braids on Dark Skin Tones
Thick Purple Box Braids on Dark Skin
The thick and stylish purple shaded braids go a long way girls. purple braids come with a variety of different styles and tweaks added to it. She looks great with this hairstyle.
Sunny Purple Box Braids on Dark Skin
Don't you just love the color combo in this hairstyle? It looks great when the purple box braids highlights mixed altogether to create such a sunny vibe into a hairstyle.
Crazy Voluminous Purple Box Braids
Wow! Just stunning. The thick and full-bodied box braids create a voluminous look that looks so fitting and honestly, mind-blowing, too.
Classic Bun Purple Box Braids
This is the most popular box braids hairstyle till date. You can carry it with ease to a college or work. The half-up bun never goes out of style.
Foxy Purple Box Braids
This look is made more gorgeous with the beautiful spotlight purple color, makeup, and added accessories like the nose rings. It gives a very foxy vibe overall.
Loosely Tied Purple Box Braids
If you are opting for a carefree kinda look, then tie up your gorgeous box braids in a loose manner. It is super casual and easy at the same time. 
Accessorized Purple Box Braids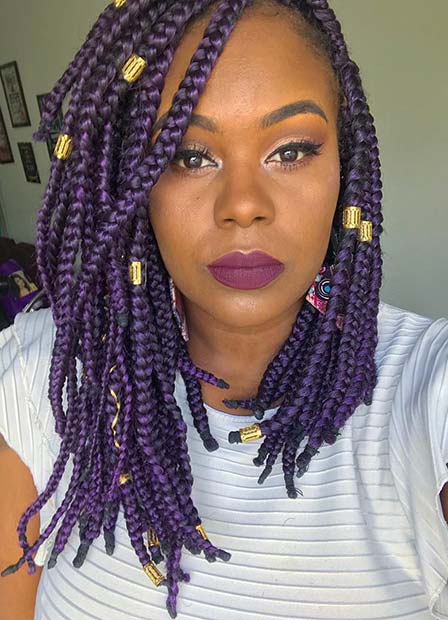 Whether your hair is long or short, the box braids never leave it out. Gotta love how professional and stylish she looks with a few element of decors.
Ponytail Purple Box Braids
A gorgeous way to style your Purple Box Braids is into a ponytail. Here we have a stunning braided ponytail with stylish hair cuffs. This is a beautiful and trendy style that can be dressed up or down. A ponytail is perfect for the hot seasons and vacations too.
Purple Box Braids
Next, we have another purple look. These braids are a little lighter than the braids we featured earlier which creates a summery hairstyle. The hair used is not just one purple tone but a few, which creates a natural looking set of braids. Purple Box Braids like this will brighten up your look and give you one trendy hairstyle.
Purple Goddess Box Braids
Purple Goddess Box Braids look super stylish when there is curly hair at the ends. Don't just take our word for it, check out this hairstyle. As you can see, the braids are long with long curly hair at the ends. The curls give the braids a glam look. Hair like this would be perfect for a special occasion. Wear in a ponytail or leave them loose.
Hopefully, this provided some inspiration about the most stunning hair colors for dark skin. How do you highlight your lovely skin tone?