Cute Puff Ball Hairstyles
How many times has your little girl or niece come up to you and asked for glamorous Cute Puff Ball Hairstyles?
How many times have you wished that you have had some better design in mind than the regular ponytail or loose curls?
Does it take you a ridiculous amount of time if you decided to go wild with a fancy french braid? Then, you are definitely in the right place!
You can try these cute puff ball hairstyles in this article, If you want to achieve these hairdo, a professional natural hairstylist should not have any problem duplicating the look.
However, for all you DIY moms out there, the style does not look too difficult to take on. All you need is time and patience.
"…actually it took sixty minutes for a hairdo that will last 2 weeks."
"I left it in for 2 weeks. Could have gone longer cuz it still looked very neat though. There was no specific after effect, no matting or extreme tangles or extra hair loss. Definitely going to do this again!"
If you ever feel stuck and uninspired when it comes to hairstyles, take a look at the gorgeous and creative puff ball hairstyles below, perfect for the queens with shorter and kinkier hair types.
Why Hair Puff Ball?
For a couple weeks now, I have seen this hair puff balls hairstyle pop up on my Facebook and Pinterest feeds. It is a simple style when once completed, looks like little puffs running down the sections of hair.
Since my daughter was due for her mid-monthly washing and deep conditioning (especially now that she is taking swimming lessons), I decided I wanted to jump on this style right away.
Mini Puff Ball Hairstyle Tutorial
Watch this video on how to do a Mini puff ball hairstyle on natural hair step-by-step instructions is given in the video
How To Do Natural Puff Ball Hairstyles
Cute kiddie style alert! We found this great hairstyle online and had to share how Instagram user Shanillia26 created these throwback puffed ponytails.
Not only is this a fairly quick style (60-90 minutes), it can last for up two weeks while protecting the hair. Inspired by a style her mother used to create on her, Shanillia26 walked fans through creating the easy look at home.
Before you start, here are the tools you need:
A comb
Paddle brush
Your favorite water-based leave-in conditioner
Rubber bands
Braid cuffs
Simple steps for the style:
Starting on freshly watched and stretched hair, part the hair into desired section, brush through conditioner and loosely band the base of the ponytail.
Add a second rubber band about an inch or two down and puff hair in between.
Continue adding rubber bands for the length of the hair, making sure they are not too tight. "We don't want to rip out the edges or put extra stress on the hair."
At the end of each ponytail, add extra conditioner and twisted and fold the tips upwards into the rubber band to protect the ends and avoid frizzing.
Shanillia26  then added four flat twists to the left side which were also banded up.
Once finished, she added a few braid cuffs to jazz up the look.
How To Do Braided Puff Ball Hairstyles
Supplies needed:
Curling cream or styling custard
Small rubber bands or elastic bands
Rattail comb (for parting, not combing)
Barrettes or braid/loc hair cuff clips (optional)
Simple steps for the style:
Section hair in 1 inch alternating squares as you go.
Add styling product to the section
Evenly, secure rubber bands down the section 1 to 2 inches apart. (depending on how big you want the puffs)
Continue until the entire head is completed.
Add barrettes to the ends or braid/loc hair cuff clips over a few rubber bands for embellishments.
You can add braids or flat twists in the front, instead of the 1 inch square sections, for add flare and uniqueness.
Be careful installing and taking out the rubber bands. They can cause breakage and damage to the hair, if misused.
Do not keep style in longer than 2 weeks to prevent matting and tangles.
Optional: For each style you may tie a satin scarf around the perimeter of the hair for a few minutes to further tame edges and nape.
Natural Hair in Two Puff Ball
Pom-pom hairstyles are an adorable way to show off a young lady's natural curls. This hairstyle is extremely easy to put together if you have medium-length hair. Just get two hair ties and some product to sleek down the rest.
Puff Ball With Bun and Curly Bangs
The Puff Ball With Bun and Curly Bangs really have a charm of their own. Flaunt your lovely little corkscrew curls to the front and wrap the rest into a cute puffy bun at the top.
High Puff Ball On The Side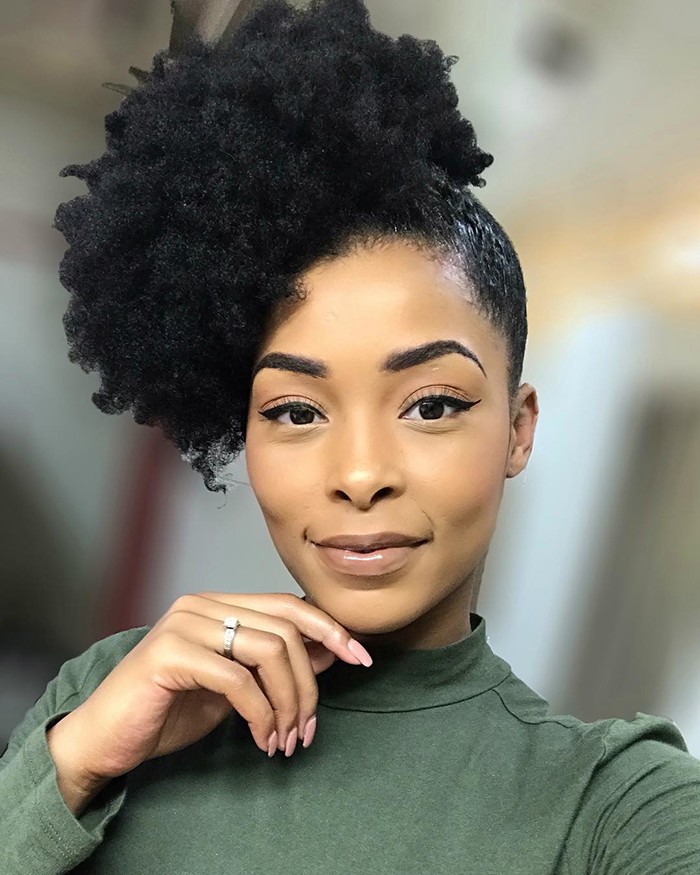 Another quick and easy way to switch up your usual puff is by simply sleeking it to one side. Fluff out your curls to make the puff bigger, this will help to frame your face and create the illusion of a faux hawk with half of the styling time!
Flat Twist Puff Ball Hairstyles
Crown yourself with this decorated flat twist high puff fit for a QWEEN! Add some braid cuffs again for effect.
Powder Puffs Ball Hairstyle
Show off the full voluminous nature of your little girl's hair by styling them into some classic puff balls! Just slick down her edges with a brush and a little bit of gel and pull it into two adjacent ponytails. Fluff the hair out and let your little one rock her natural glory!
High Puffs Balls
Another take on the powder puff style is to position them high up on the head instead of low. This gives the look a feeling of variety, especially for those moms who aren't too good at braiding or twisting.
Braid and Puff Ball
If you need to tuck your little natural's hair away for a bit, this is a great style to consider. Part the hair into four sections and braid the two back sections straight up to the middle of the head.
Secure the front and ends of the braid with a ponytail holder, and twist up the remaining hair into a few twists. Pin the ends under in order to form a bun and you're good to go!
Big and Bold Puffs
If your little black princess loves wearing her fro, this is a great way to add some versatility! Pull the front of her hair back slightly in any which way in order to switch up her look without spending too much time on her hair!
Conclusion
Thanks for reading my post about cute puff ball hairstyles, She Loves it! She was not so sure at first when I showed her pictures from pinterest but once I got going, she was excited about the results.
I believe it is absolutely cute! I know she is getting older so she does not want to wear a lot of pigtail type styles.
However, this style looks quite unique and can be dressed up with dreadlocks cuffs and accessories. I could not find any cuffs at my local store but will try another store later this week.
I will definitely do this style again but perhaps try bigger sections/puffs. This may also cut down on styling time.
I will see how this style holds throughout this week and through swimming Saturday. The setting cream gave her hair a nice hold so hopefully the style will get some good wear.
please checkout my other post about Hair Hope Growth Oil Review