Jumbo Box Braids On Dark Skin
Jumbo box braids on dark skin have always been a popular style choice. Sometimes it seems wherever you go you can see women rocking box braids in jumbo size.
They are a very versatile style, so that has a lot to do with their popularity. These braids have been around for a long time, way back to the 90's when Beyonce appeared in a music video wearing box braids.
The braids were soon renamed after the music video because Beyonce caused quite a stir wearing those braids. The iconic look grew in popularity, and it's still growing strong to this day.
What Are Jumbo Box Braids?
Jumbo Braids are Basically Big Box Braids hairstyle the hair is braided in a much bigger strands. Unlike micro braids, your hair is parted into larger sections, allowing the braiding process to move much faster than smaller braids. Additionally, jumbo braids utilize more braiding hair, making each plait bigger overall.
How To Do Jumbo Box Braids On Dark Skin
Step 1: Wash and condition (or co-wash) your natural hair. Use a lightweight, yet intensely moisturizing cleanser, such as Love Beauty and Planet Purposeful Hydration Shea Butter & Sandalwood Gentle Cleansing Conditioner or your favorite natural hair shampoo and conditioning system. Towel-dry and follow up with a leave-in hair care product, like TRESemmé Pro Pure Detangle and Smooth Leave-In Conditioner, which helps soften and prep your hair as well as get rid of any knots.
Step 2: Prepare your hair extensions. Jumbo braids styles require bigger sections of hair, so adjust the thickness of each strip to your liking. Some women also like to pull the ends of their extensions so they fall more naturally when braided, and don't look as blunt.
Step 3: Section all of your natural hair into four, and clamp three aside. Using a rat-tail comb, further divide the loose section into smaller grids (some prefer grids underneath and triangles at the hairline—up to you). You can also opt to refine your sections with a hair wax, such as Bed Head by TIGI Manipulator Cream, to clean up the edges.
Step 4: Split each small grid into two. Take a strip of hair extensions, holding it in the center so it doubles up into an upside-down "U" shape, and lay each side of the weave on top of each side of your natural hair. Both the left and right sections must have a weave laying on it.
Step 5: Anchor your braid with a twist. Some like to go directly into braiding using their natural hair as the third section, but we find that starting with a twist results in a more secure base. Starting with the right side, hold the hair snugly and begin twisting in one direction, for about two or three times. Repeat on the left side for about two to three twists.
Step 6: Begin braiding, Now that your weave is nicely secured into your natural hair, split that entire grid into three, as you would with a regular three-strand braid. Begin braiding until you reach the ends.
Step 7: Secure your ends. You can either use a hair tie at the tips or dip them in hot water to seal them off.
Step 8: Rub on some styling oil. The plaits on jumbo box braids usually already end up with a pretty gleam. For more standout shine, however, a hair oil, such as Nexxus Oil Infinite Nourishing Hair Oil, can help.
Step 9: Revitalize with a dry shampoo. Jumbo box braids can be left in for weeks at a time, so a dry shampoo, such as Nexxus Between Washes Smooth & Clean Dry Shampoo Foam, can help refresh your scalp while you skip the washes. Remember to spritz at least 12" from your head (or until your arms form a capital letter "L") to avoid any telltale white flakes on your scalp.
How To Maintain Jumbo Box Braids On Dark Skin
Protect your hair at night. Always wear a scarf when you go to bed made out of silk or satin. This is important whether you have braids or not. The smooth texture will prevent your braids from frizzing and keep your edges looking fresh. This also protects your roots from drying out when you sleep. If you find satin or silk head scarves uncomfortable, then place a satin pillowcase over your pillow for a similar type of protection.
Keep your scalp moist. Do this at least two to three times a week, using a leave-in conditioner. This will help prevent your hair from drying out and eventually breaking. Water is the best thing for your hair, so make sure to spritz your hair every morning with a water-based solution with natural oils such as coconut oil or almond oil.
Wash your braids. The build-up of sweat and products used can be damaging to your hair so it's important to wash your braids at once every two weeks.
Thankfully, you don't need to hop in the shower and douse your braids with water if you don't want to. You can use dry shampoo or dry-wash your hair with by dampening a washcloth with warm water and shampoo. You'll part your hair and wipe your scalp down in sections.
Extend your style time by redoing your edges. Often, after a few weeks your roots have grown out and it's time to freshen up your look. Rather than rebraid your entire head, just reinstall the braids along your hairline. After you take out the braids along your edges, take extra care to detangle and deep condition before reinstalling your braids again.
Don't leave your braids in for too long. Protective styling is meant to be short-term. You should never keep braids for longer than 8 weeks. Any longer than that and your new growth will stretch and damage and eventually break. Keeping your braids for longer than 8 weeks will likely leave you with hair loss.
How To Do Medium Box Braids Hairstyle:
Make sure your hair is washed, moisturize, and detangle.
Use a comb to separate the hair into medium sized sections.
Apply edge control in the perimeter of your natural hair to polish it, and get rid of flyaways.
Take one section of the synthetic hair, and attach it to the root of your natural hair.
Use the three main fingers from your dominant hand to twist the hair.
Add the braiding hair at the root of your natural hair, and begin to rotate while feeding your natural hair to the braiding hair.
Continue to braid all the way down to the end.
5 Best Braiding Hair To Create Jumbo Box Braids Hairstyle
Brown Jumbo Box Braids
These Brown Jumbo Box Braids are spiraled and pulled up to create an elegant bun. Update your large box braids style by mixing in a few bun. To add more visual interest to your look, opt for using colored hair extensions.
Jumbo Braids With Triangle Parts
The Jumbo Box Braids With Triangle Parts are designed in such a way as to present a triangle on the side of the head. The rest of the braids are pulled back.
Jumbo Box Braids Color
Why not try every color under the sun? These beautiful braids are all pastel colors, and the combination is quite beautiful.
Jumbo Braids With Curly Hair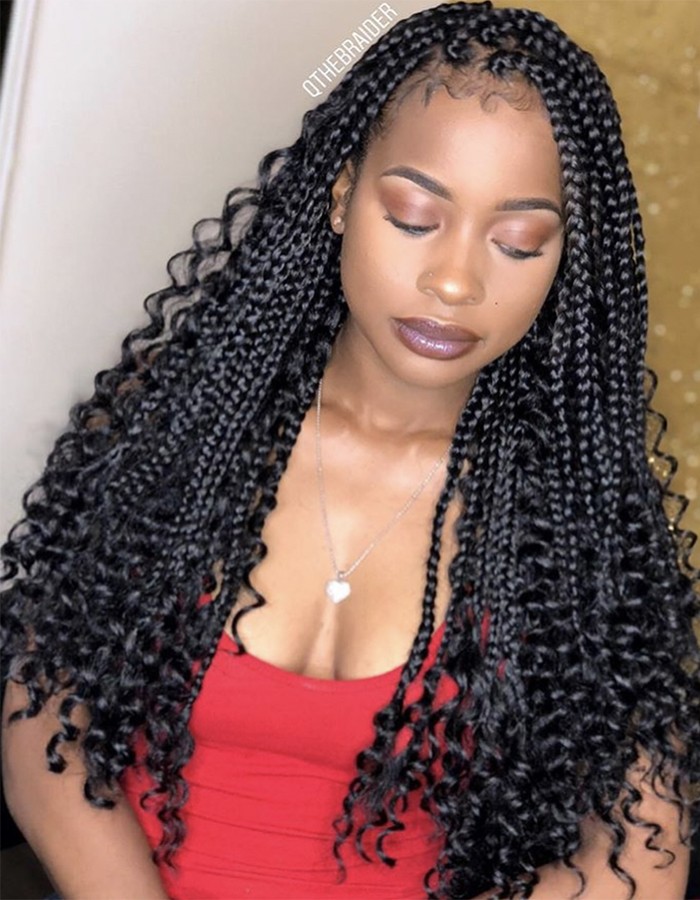 These Jumbo Box Braids with Curly Hair are pulled back into an exquisite ponytail.
Jumbo Braids With Beads
This style is rocking for a lot of reasons. It's left down, but it's no less stunning than an updo. I love all the beads in her hair that really make her look pop.
Her Jumbo Box Braids with Beads start off large and go into small designs that are absolutely beautiful.
How To Create Jumbo Box Braid Hairstyle Tutorial
Watch this video for guidance on how to do jumbo box braids hairstyle: