How To Make A Donut Bun With Box Braids
How To Make A Donut Bun With Box Braids? All thanks to hair donuts, gone are the days of spending hours perfecting hair buns.
These clever tools are the must-have tool for creating immaculately shaped updos, even if you're a complete styling newbie!
Favored by ballerinas and athletes alike, the donut bun is a tidy, chic and classic style, not to mention that it's super easy to create.
Don't believe us? Well, we're here to persuade you with our uber simple step-by-step guide to getting the perfect hair bun (you can thank us later!).
For all our buns fans we have another hair tutorial on how to make a perfect bun, this time a donut bun. The easiest style you can do is a high ponytail wrapped with box braids into a bun.
Alternatively, make a ponytail, then divide it into 3. It's easy and takes no time! The best part is that putting your braids in a bun is incredibly easy. In just four steps you'll have a box braid bun that is glamorous.
What you will have to do:
1. Split your hair into two sections, the upper sections should be smaller and gather the lower part into a ponytail.
2. Use the hairdryer then a teasing comb and tease the strands of hair. Add some hairspray to them, this will also help you to create some height in the front.
3. Fix the hair to the ponytail then take a small hair lock from the back of it and twist it around the hair elastic to cover it.
4. Twist the entire hair and try to make a donut shaped bun. Fix the bun with bobby pins.
For a better fix don't forget to add in the end lots of hairspray to your hair.
How To Put Box Braids In A Donut Bun
Section off five equally spaced parts in your hair. Using a skinny rattail comb, separate your hair into six sections to create six medium-size straight-back braids later on.
Braid one medium-size cornrow. Using Ampro's Shine 'N Jam Conditioning Gel and Shake-N-Go's Freetress Equal Hair Extensions, in the first section of hair, braid one medium-size cornrow down to the middle of your back. Start by braiding your natural hair and weave in extensions as you go to make sure your braids are long enough to create a coiled bun.
Repeat this step across your entire head. Create a total of six medium-size straight-back long braids.
Add gold string. Using a crochet needle, weave in gold string through two of your braids in an "X" motion. Repeat this step to create a total of three sets of gold string. Wrap the string in a circular motion down to the ends of your braids for extra glam.
Create a bun. Wrap your braids around in a circular motion to create a tightly coiled low bun. Use a needle and thread to secure your bun for a tighter hold.
Your finished look will be flawless.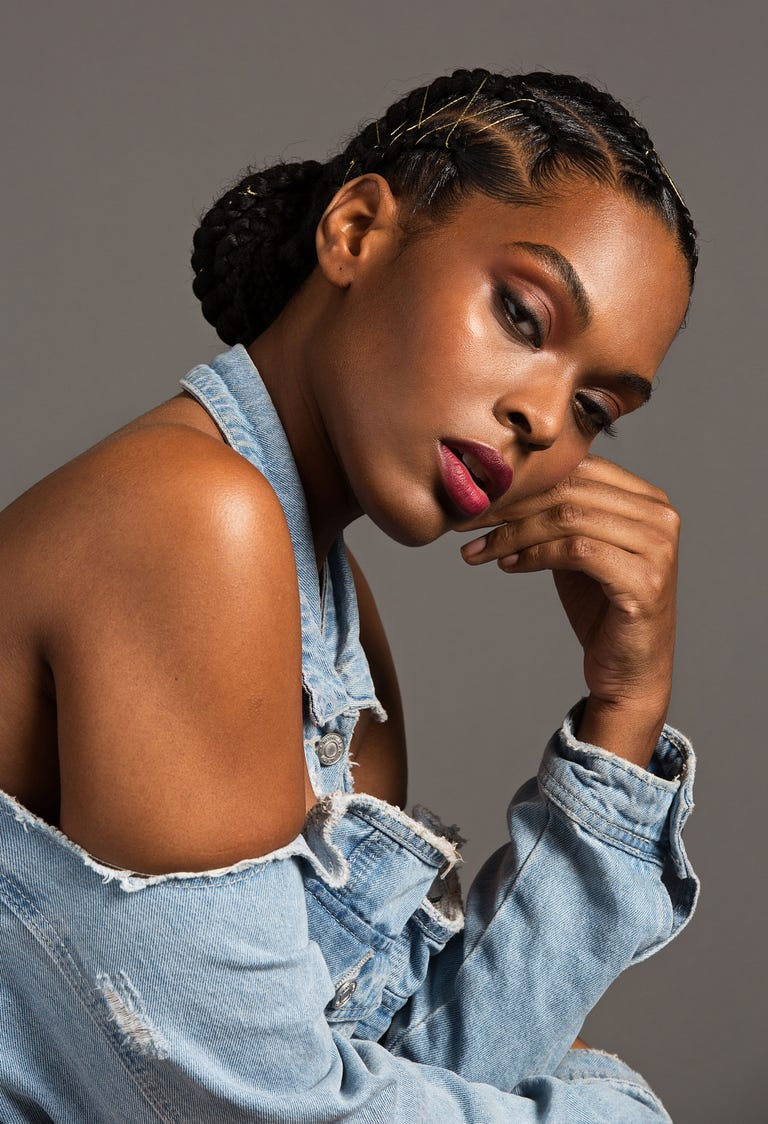 How to put box braids in a high ponytail
Start clean.
Start with your hair down. Refresh your box braids with dry shampoo like the Dove Refresh + Care Volume and Fullness Dry Shampoo.
Hold the can about 3-5 inches away from your hair, then spray the dry shampoo at the roots of your hair. Gently massage it through, and then you'll be left with voluminous hair!
Place your ponytail.
Gather all of your hair into a ponytail at the preferred side of your head, or  simply place the pony right at the center of your crown. You don't want to cause any breakage, so make sure you're gentle and not tugging at the root of your hair.
If you have a fresh set of box braids, we suggest creating a loose ponytail to prevent tension. Hold your ponytail in place and begin step 3.
Secure ponytail with braids.
Take two to three stands of your braids and loop it around the base of your ponytail. Take the ends of your strand and lace it through the base to lock your ponytail in place without using any hair ties. If you're after a much tighter hold, you can insert a few bobby pins.
Final ponytail box braids style
.There you have it! Your cute box braids high ponytail. If you end up wearing this look all week long, we don't blame you. Consider alternating the position of your ponytail if you want switch up the style.
This ponytail can easily transition into a bun by simply wrapping your braids around the base of your ponytail and using bobby pins to set in place.
Ready to try this hairstyle yourself? Below, check out these ways you can style your box braids donut bun ponytail.
Conclusion:
Want to keep your hair out of your face? Twist your braids into a bun and secure with bobby pins or a hair tie. For maximum hold use Suave Professionals Luxe Style Infusion Plump Hold Hairspray.